Alexian Lien was dragged out of his car and beaten in front of his wife and child.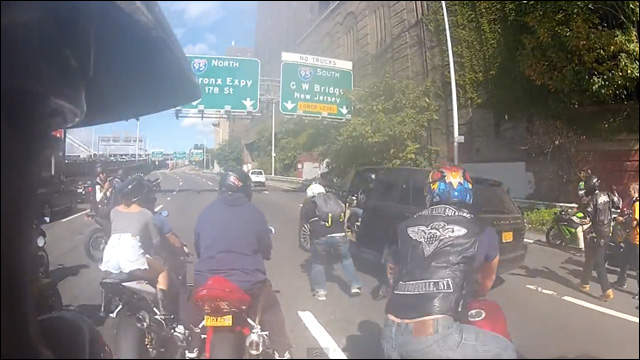 Craziness on the road yesterday in New York City, where a wild freeway chase between a motorist and a pack of motorcyclists ended in a violent altercation:
Pack of motorcyclists chase man in SUV, attack him on upper Manhattan street after fender bender on West Side Highway
.
It all started with a fender bender. 33-year-old Alexian Lien was out for drive with his wife and 2-year-old child when his Range Rover was surrounded by several bikers on the West Side Highway. When one of the bikers cut him off, Lien hit the brakes, but his SUV hit the motorcycle's rear tire.
Lien stopped, but when several the bikers began to damage his car, he says he feared for his safety and took off, plowing through at least three motorcycles -- breaking one rider's leg -- and triggering a frightening freeway chase. When the vengeful motorcyclists caught up with Lien, they based his SUV with their helmets, dragged him out of the vehicle, beat him, and slashed his face with a knife.
The bikers were out with hundreds of other motorcyclists taking part in an annual ride from Brooklyn to Times Square. One biker's helmet camera caught part of the scary incident on
video
:
More on the incident:
The ordeal unfolded about 2 p.m. Sunday when Lien became surrounded by a swarm of motorcycles on the highway near W. 125th St., police sources said.

Lien suddenly struck one of the motorcycles when its rider cut him off and hit the brakes, sources said.

A video taken by a biker's helmet cam shows the motorcycle - riding with hundreds of others as part of an annual ride from Brooklyn to Times Square — swerve in front of Lien's SUV just before the accident.

Sources said Lien stopped, but "feared for his safety" as several of the bickering bikers began to damage his SUV.

Lien hit the gas and plowed through at least three motorcycles and struck one rider, breaking his leg, before speeding away, police said.

As some hopped off their bikes to tend to their injured friend, the angry bikers began to speed down the thoroughfare to catch up with the SUV.

The video, posted on YouTube, shows the frightening chase up the Henry Hudson Parkway and onto I-95.

At one point, the motorcycles surround the SUV — which sources said had a slashed tire — and one of the bikers tries to open the door, but can't grab Lien out of the seat before he drives away.

Lien sped off the W. 176th St. exit and continued to shake off the pack of bikers through Washington Heights. But when he's forced to stop at a red light on W. 178t St. near Wadsworth Ave., the bikers attack.

No arrests have been made. Police are trying to identify the bikers involved in the incident, but most of the motorcycles in the video footage don't have license plates. Investigators are reviewing nearby surveillance cameras and social media in an attempt to track down the people who attacked Lien.
More here:
After Motorcyclist Is Struck, Driver Is Pulled From S.U.V. And Beaten, the Police Say
.