Man kills friend in an argument over the existence of God.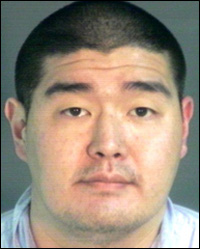 In Oakland, a man has been found guilty of murder for shooting and killing his friend during a drug and alcohol-fueled argument over the existence of God:
Conviction in slaying over 'existence of God.'
33-year-old Douglas Yim was convicted of first-degree murder, assault with a firearm and mayhem for killing 25-year-old Dzuy Duhn Phan and injuring another friend, Paul Park, in April 2011 -- the culmination of a night of cocaine, marijuana, alcohol and video games that turned into a heated argument "about the existence of God and religion."
Phan, an atheist, mocked Yim's belief in God, badgering him until he finally snapped. At some point, Yim grabbed his (illegally owned) assault rifle and shot Phan six times:
On April 2, 2011, Yim invited the two men to his home on Herriott Avenue in Maxwell Park to hang out and play video games, said Deputy District Attorney Allyson Donovan.

All three men were using alcohol and drugs when Yim began arguing with Phan "about the existence of God and religion," Donovan said.

Andrews said his client "is a religious man. He was trying to see if he could get Mr. Phan to become more religious."

Park testified that Phan asked Yim why God wasn't present whenever Yim lost a video game - and when Yim's father had died several years earlier.

The victims tried to calm Yim, and at one point Phan told Yim that if he wouldn't calm down, he should just get his gun.

Yim got up, walked into his back bedroom and retrieved an AR-15 assault rifle that he illegally possessed, the prosecutor said.

Yim shot Park through the wrist before shooting Phan six times - in the chest, stomach, arms, hand and in the head at close range, authorities said.

You could say things escalated quickly. Yim now faces 126 years to life in prison when he is sentenced in November. More here:
Oakland: First-degree murder conviction in fight over existence of God case
.