Man conquers the highest mountain in the contiguous U.S., falls from a cliff on the way down.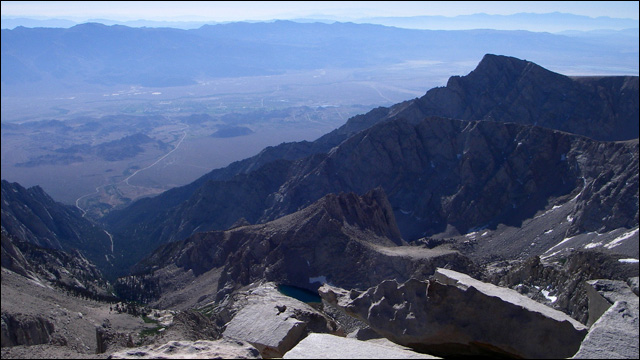 Damn. Some terrible, tragic news out of the Sierra Nevadas... Over Labor Day weekend, a 60-year-old hiker reached the summit of California's Mount Whitney, only to fall to his death from a cliff on the way back down:
Torrance hiker conquers Mt. Whitney, then falls to his death
.
During the holiday weekend, Yukio Kato of Torrance, California hiked to the top of Mount Whitney, the tallest mountain in the contiguous United States. On his return to the trailhead, about a mile down from the summit, Kato fell from a 200-foot cliff and died. Park rangers recovered his body last week:
Rangers with the Sequoia and Kings Canyon national parks removed Yukio Kato's body Monday from the bottom of a 200-foot cliff along the Mount Whitney Trail, National Park Service officials said.

Kato fell over the cliff Sunday afternoon on his return from the summit, which he had reached earlier in the day with three other people, officials said.

The cliff, which sits at an elevation of roughly 13,500 feet, is about a mile away from the Mt. Whitney summit, officials said. At 14,497 feet, Mt. Whitney is the tallest mountain in the contiguous United States.

The cause of the fall is under investigation. More here:
Hiker falls to death after Mt. Whitney climb
.