Larry Kwong's pioneering pro hockey moment was brief but historic.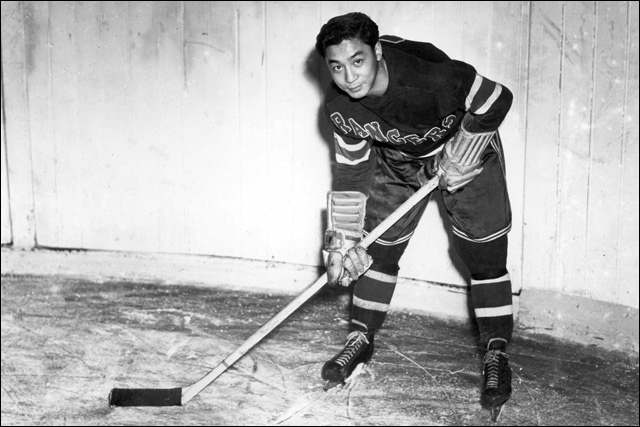 Sports news from the north... Last week, the first person of Asian descent to play in a NHL game was inducted into the B.C. Sports Hall of Fame:
1st Chinese-Canadian in NHL inducted to B.C. Hall of Fame
.
On March 13, 1948, Larry Kwong got called up from the minor leagues and laced up his skates to play for the New York Rangers. He only played for less than a period in one game against the Montreal Canadiens, but in that moment, this Chinese-Canadian kid from Vernon BC broke professional hockey's color line.
He never played in another pro game again. But on Thursday, Larry Kwong, now 90, was immortalized for his pioneering contribution to the sport:
After playing the 1945-46 season back in Trail, he was signed by the Rangers to play for their minor-league team, the New York Rovers. Before a home game with the Rovers, the 5-foot-6, 145-pound Kwong, nicknamed King Kwong by the New York media, was feted at centre ice by the unofficial mayor of New York's Chinatown and two showgirls from the China Doll nightclub.

Late in the 1947-48 season, a campaign in which he collected 33 goals and 86 points in 65 games for the Rovers, Kwong was called up by the injury-plagued Rangers for a March 13 game against the Canadiens at the Montreal Forum.

"It is what I had dreamed about since I was a boy, to play in the NHL."

He sat on the bench, however, for the first two periods and got only the one shift in the third period. Still, his appearance made headlines across Canada.

Props to breakthrough sports figures Larry Kwong. All these years later, it still feels like Asian athletes are making breakthroughs that should have happened a long time ago. Much respect to those who make it easier for generations to follow.
More here:
Crowning B.C. sports hall glory for King Kwong