And racist Twitter users predictably lose their minds.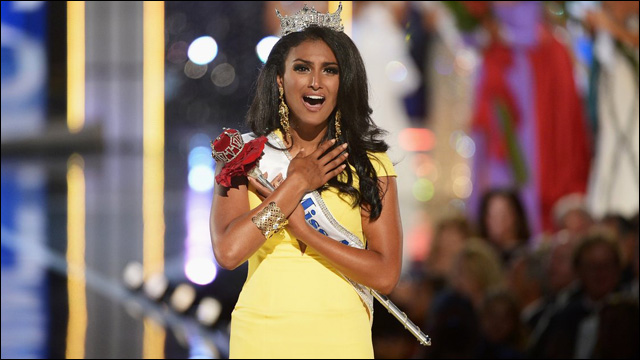 Normally, you know I wouldn't give two fat craps about a beauty pageant... but yo, did anybody notice that they just gave the Miss America tiara to an Indian American woman? I am not kidding you!
On Sunday night, 24-year-old
Nina Davuluri
, Miss New York, was crowned Miss America 2014. And yes, she is indeed the first contestant of Indian descent to win the Miss America crown in the nine-decade history of the pageant:
Miss New York Crowned Miss America
.
Davuluri, who won a $50,000 scholarship as part of the pageant title, wants to be a doctor like her father, and is applying to medical school. For the talent portion of the competition, she performed a Bollywood fusion dance.
For more on the new Miss America, The Aerogram's got
10 Things You Need to Know About Miss America Nina Davuluri
.
And on top of Ms. Davuluri's history-making win, the first runner-up was Miss California
Crystal Lee
, and the fourth runner-up was Miss Minnesota
Rebecca Yeh
-- that's three Asian Americans in the winner's circle!
Yeah, I know it's just a silly beauty pageant. But I think it's okay to blow a few people's minds and show that "America" doesn't just mean blonde-haired, blue-eyed beauties. See this Thick Dumpling Skin post from my friend Lynn Chen:
There She Is, Indian Miss America
.
Of course, true to form, racist fools took to Twitter to express their hateful shock and disbelief that Indian American could win the crown of Miss America. Because, you know, "this is America."
And so, the obligatory BuzzFeed roundup of racist tweets about Miss America:
A Lot Of People Are Very Upset That An Indian-American Woman Won The Miss America Pageant
.