Abercrombie claimed her headscarf violated the company's "Look Policy."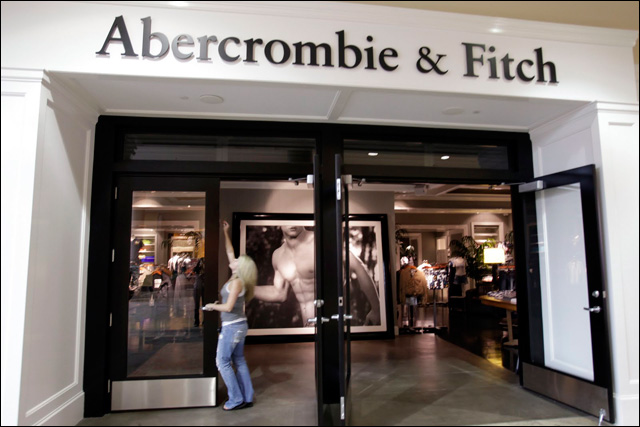 You know I am happy anytime Abercrombie & Fitch gets kicked in the balls. And this is a good one. This week, a judge ruled that the company violated federal law when it fired a Muslim worker who refused to take off her hijab:
Muslim clerk wins hijab fight against Abercrombie and Fitch
.
Hani Khan, an employee the Hollister store in San Mateo, California, was fired in February 2010 for not removing her religious headscarf for work. Abercrombie claimed the hijab violated the company's "Look Policy," whatever the hell that means. Khan filed a complaint with the Equal Employment Opportunity Commission, which sued Abercrombie & Fitch on her behalf in 2011.
Umme-Hani Khan wore her headscarf when she interviewed at Abercrombie's store in San Mateo, Calif. Khan said she accepted the "look policy," which included a no headgear provision, and in October 2009 started her new job, which was mainly in the stockroom, but required her one to four times per shift to restock clothes on the sales floor.

Local supervisors permitted Khan to wear headscarves, as long as they matched company colors, and never complained about Khan's performance. But about four months into Khan's employment, the store was visited by a district manager who noticed Khan's headscarf. A human resources manager told Khan she could keep working at the story only if she stopped wearing her headscarf at work.

Khan was fired on Feb. 22, 2010 and filed her lawsuit with the federal Equal Employment Opportunity Commission on March 1.

Abercrombie claimed that allowing Khan to wear her hijab on the job would present "undue hardship" on the company's brand and sales. The judge called bullshit on that,
ruling
that "by offering Khan one option -- to remove her hijab despite her religious beliefs -- Abercrombie acted with malice, reckless indifference or in the face of a perceived risk that its actions violated federal law."
A trial on the company's liability is scheduled for later this month. A jury will determine what punitive damages Abercrombie & Fitch owes Khan. Employment discrimination does not pay.
Over the years, it's become fairly clear that A&F's "look policy" is white, white and beautifully white. I'm actually surprised that Hani was hired in the first place. But hell yes, feel that nut-kick of justice, Abercrombie.
More here:
Hani Khan, Ex-Abercrombie Employee, Scores Legal Win After Being Fired For Wearing Hijab