Asians behaving badly... serial police impersonator edition!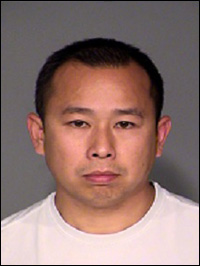 Last week in Indianapolis, a man was arrested for impersonating a cop -- in a full police uniform complete with two guns -- during the funeral procession for a fallen police officer:
Police arrest impersonator during officer funeral procession
.
38-year-old Minh V. Nguyen was arrested just before the procession and services for Officer Rod Bradway, who was killed in the line of duty earlier this month. Nguyen was seen at the Northwest District Headquarters wearing a police-type uniform and photographing the funeral events. An IMPD officer recognized Nguyen as a person he had warned several times before about impersonating a police officer.
And Nguyen apparently takes his cop cosplay seriously. His faux police getup included a fake badge, patches identifying himself as an officer, two firearms, a radio with shoulder microphone, two sets of handcuffs and a stun gun. Police -- real police -- also found a a rifle and a stash of other stolen IMPD items in his car.
According to the police report, Nguyen was arrested at Northwest District Headquarters for impersonating a public service officer and theft. Metro police detectives noticed Nguyen standing at the far side of Northwest District in a full police uniform complete with two guns. However, the patch on his uniform was not for IMPD, it was a generic emblem. Detectives were suspicious of Nguyen because he has a history of impersonating officers, though he's never been arrested for doing so before.

When officers asked Nguyen Thursday if he had arrest privileges, he told them no. They quietly took him around and inside Northwest District Headquarters to talk to him more. He said his permit for his guns was in his car. Inside his vehicle, described as a Dodge Charger made to look like that of an undercover officer, they found several pieces of paperwork Nguyen should not have had access to as a private citizen. He also had an AR15 rifle in the car.

Seriously, dude? Impersonating a police officer during a real police officer's funeral? You might have been able to fool a drunk driver or two in the past, but somebody in that crowd of cops was definitely going to notice.
More here:
Man impersonates officer during Officer Bradway's funeral
.