September 12 - December 29 at the Philadelphia Art Alliance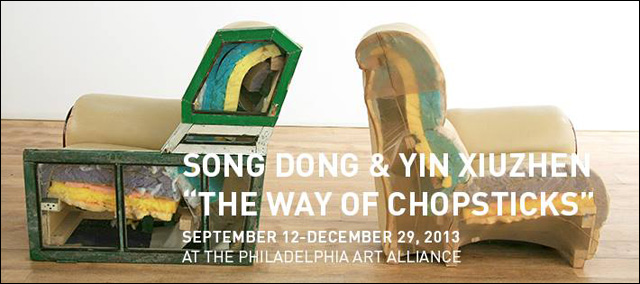 Philly! From now until December 29, catch Song Dong and Yin Xiuzhen's
The Way of Chopsticks
at the Philadelphia Arts Alliance. This contemporary exhibition will transform the Rittenhouse Square mansion into a three-story, multimedia installation that invites viewers to contemplate the similarities and differences between current American and Chinese family life. In addition to the artwork, the PAA will hold a series of artist talks, food tasting, gallery tours, and family workshops. Here's the schedule so far:
Song Dong and Yin Xiuzhen: The Way of Chopsticks

September 12 through December 29, 2013
Opening Reception: Thursday, September 12, 6-8 p.m., Philadelphia Art Alliance

Talks:

A Discussion with Song Dong, Yin Xiuzhen and Philippe Vergne
Saturday, September 14, 2-4 p.m., FREE
The University of the Arts, Caplan Recital Hall, Terra Hall,
211 South Broad Street
Philadelphia Art Alliance senior curator Sarah Archer and Philippe Vergne, director of theNYC-based Dia Art Foundation, host a conversation with Song Dong and Yin Xiuzhen about The Way of Chopsticks and how the artists have balanced family life with thriving careers.

Philip Tinari on the Beijing Art Scene
Thursday, October 3, 7-8 p.m., $20 ($10 for members)
Writer and curator Philip Tinari, director of the Ullens Center for Contemporary Art in Beijing, discusses the art scene in modern-day China.

Tastings and tours:

DesignPhiladelphia: The
Five Tastes of Chinese Cuisine with Chef Joseph Poon
Friday, October 11, 6-8 p.m., $20 ($10 for members)

Setting the Chinese Table: A Tasting and Conversation about Food and Design with Michelle Liao and Chef Joseph Poon
Thursday, November 14, 6-8 p.m., $20 ($10 for members)

Third Thursday Gallery Tours
September 19 // October 17 // November 21 // December 19, 2-3 p.m., $10 (FREE for members)
Join Philadelphia Art Alliance senior curator Sarah Archer for a personal guided tour ofThe Way of Chopsticks.

Family Workshops:

Saturday Family Workshop Series
10-11 a.m.; $10 per child ($5 for members)
Programs are designed for families with children ages 5-8 years of age.

October 5: The Art of Shadow Puppets
Join artist, performer and educator Hua Hua Zhang to learn about the Chinese tradition of shadow puppetry and to make a shadow puppet of your own.

November 2: The Way of Calligraphy
Hua Hua Zhang will introduce families to the Chinese art of calligraphy, in which beautifully crafted characters provide both visual and verbal expression.

December 7: Creating a Family Story with Robin Markle
Song Dong and Yin Xiuzhen worked with their daughter Song ErRui to create this exhibition. Be part of our storytelling workshop and create your own mixed-media art project that tells your family's story.

Performance:

Shadow Puppet Performance
Saturday, December 7, 5-6 p.m., $12 ($10 for members), adults and children welcome
Enjoy an original work of shadow puppet theater, written and performed by artist, performer and educator Hua Hua Zhang, in the intimate setting of the PAA.

The Way of Chopsticks has been supported by The Pew Center for Arts &Heritage. Additional funding comes from the Mindspring Foundation and the Asian Cultural Council. Song Dong and Yin Xiuzhen are represented by Chambers Fine Art in New York City and Beijing.

The Philadelphia Art Alliance is open Tuesday through Friday, 11 a.m. to 5 p.m.; and Saturday through Sunday, noon to 5 p.m. (closed on Mondays). Admission is $5 for adults, $3 for students and seniors and free for members. For more information, call 215-545-4302 or visit
philartalliance.org
.