Asians behaving badly... military secrets-for-sex (and other perks) edition!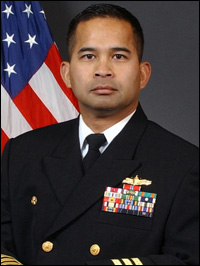 A high-profile U.S. Navy commander faces federal bribery charges for schemes involving hundreds millions of dollars in Navy contracts with payoffs that included prostitutes and luxury travel in exchange for classified information:
High profile U.S. Navy commander charged in bribery case
.
According to the U.S. attorney's office, Navy Cmdr. Michael Vannak Khem Misiewic sent classified information, including ship movements, and used his position as deputy operations officer for the U.S. commander of the Seventh Fleet to help schedule visits of Navy ships to ports where a defense contractor, Leonard Glenn Francis, provided services including tugboats, security, transportation, supplies, fuel and waste removal.
In exchange, Francis provided Misiewicz with paid air travel, luxury hotel accomodations, prostitution services and other entertainment -- including five tickets to a Lady Gaga concert.
Prosecutors accused Misiewicz, 46, of sending Francis classified information, including ship movements, and helping arrange visits by U.S. Navy vessels to ports where Francis' company, Glenn Davis Marine Asia Ltd, had contracts to provide tugboats, security, fuel, waste removal and other services. Those contracts were worth hundreds of millions of dollars, prosecutors said.

In exchange, Francis furnished Misiewicz with such gifts as travel, entertainment, luxury hotel stays and prostitutes, prosecutors alleged. According to the criminal complaint, the defense contractor provided Misiewicz with five tickets to a Lady Gaga concert in Thailand in May 2012.

The complaint also described the two men as developing a close friendship in which Misiewicz referred to Francis by such terms as "Big Brother," "Big Bro" or "BB" and the defense contractor called him "Little Brother," "Little Bro" or "LB."

Damn, commander. Classified Navy intel for Gaga tickets? Was it worth it? Misiewicz is charged with conspiring to commit bribery and could face up to five years in prison if convicted.
More here:
Navy officer, NCIS agent arrested in multimillion-dollar bribery case