Award-winning documentary opens in New York City on October 25 and Los Angeles on November 1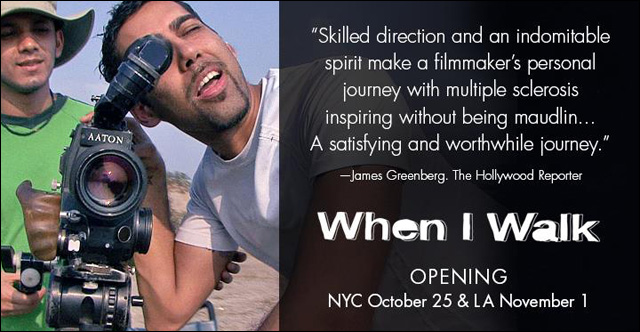 Please take a moment to check out the new theatrical trailer for
When I Walk
, the award-winning Sundance documentary, which opens in New York City on October 25 and Los Angeles on November 1.
In 2005, 25-year-old filmmaker Jason DaSilva was diagnosed with multiple sclerosis, a disease that affects the central nervous system, leading to loss of vision and muscle control, as well as a myriad of other complications. There is no cure. As his condition worsened, Jason decided to turn the camera on himself.
In
When I Walk
, we witness the deterioration of Jason's body and his attempts to cope and make sense of this devastating disease. But we also take part in his emotional honest, life-affirming journey in search of healing, self-discovery and love. Take a look:
This is a marvelous film. I highly recommend seeking it out.
When I Walk
opens at the IFC Center in New York on October 25, and at the Laemmle Music Hall on November 1, with several festival screenings in various cities along the way. For the full list of upcoming screenings, and for further information, visit the
When I Walk website
.