Join AALDEF for a briefing on gentrification in Philadelphia, Boston and New York Chinatowns.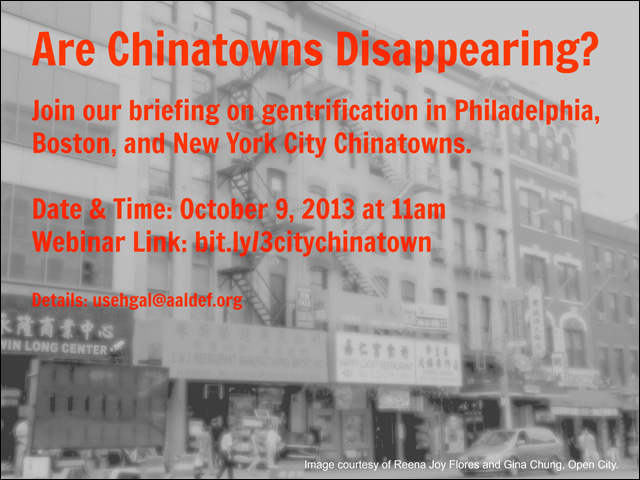 For more than a century, Chinatowns have been home to immigrant families, and an essential part of our Asian American heritage and history. But Chinatowns on the East Coast are on the verge of disappearing.
In the first-ever study of its kind, the Asian American Legal Defense and Education Fund embarked on a three-city land-use study of Chinatowns in Boston, New York, and Philadelphia, and found that in each city, city governments accelerated gentrification in these neighborhoods. Government policies were directly tied to the fact that White populations are growing faster in Chinatowns than they are overall in all three cities.
On Wednesday, October 9, join AALDEF for a webinar presenting its findings with the report authors, community organizers, and affected citizens. Here are some more details:
Luxury Condos. Evictions. Displacement. Are Chinatowns disappearing?

On Oct. 9, AALDEF will present the results of the first-ever land use study of the 3 largest Chinatowns on the East Coast: NYC, Boston & Philadelphia.

Chinatowns have been home to immigrant families for over a century and are an essential part of Asian American history. Yet city governments are accelerating gentrification. Help ensure a sustainable Chinatown for current and future immigrants. Please join our webinar with report authors and community organizers.

Date & Time: October 9, 2013 at 11am
Webinar Link: http://bit.ly/3citychinatown

Contact usehgal@aaldef.org to RSVP.

Tune in, submit questions and join the conversation on what you can do to help save Chinatown.