September 26 - October 20 at Inner-City Arts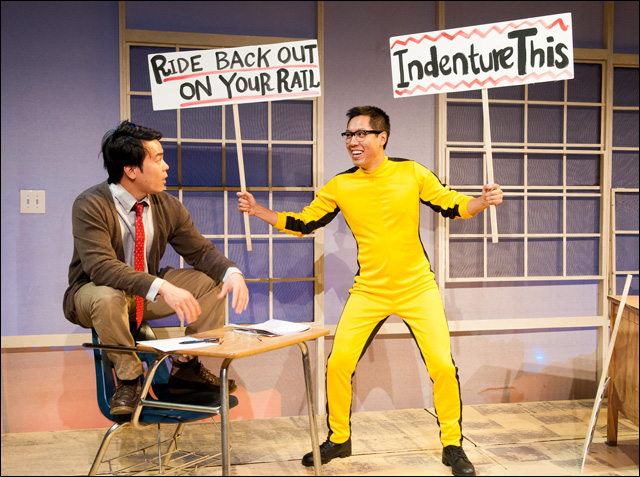 For all you theatre fans in Los Angeles, don't miss your chance to see
Artists at Play's
marvelous production of Michael Golamco's
Cowboy Versus Samurai
, now running through October 20 at Inner-City Arts in downtown Los Angeles. Director by Peter J. Kuo and featuring Feodor Chin, Julia Cho, Daniel Vincent Gordh and West Liang, the play is a clever and poignant re-telling of Cyrano de Bergerac with an Asian American twist. Here are some more details about the show:

Artists at Play
presents the Los Angeles premiere of

COWBOY VERSUS SAMURAI
by Michael Golamco
directed by Peter J. Kuo

A comic re-imagining of Cyrano de Bergerac, COWBOY VERSUS SAMURAI revolves around Travis Park, a high school English teacher and the only Korean American living in the dusty town of Breakneck, Wyoming. While his friend Chester evokes an Asian American Che Guevara, pointing out the racial injustices in their small town, Travis couldn't care less. That is, until whip-smart Korean American Veronica Lee comes to town. The problem is she only dates white men ... like Travis' good friend Del. But what happens when Veronica learns the letters from Del that stole her heart were actually penned by Travis? Through irony, humor and social commentary, COWBOY VERSUS SAMURAI exposes the struggle of Asian Americans to find their place in the vast American landscape and with each other.

Preview Performances: September 26-27 at 8 pm
Opening Night: September 28 at 8 pm
Understudy Performance: October 6 at 8 pm

Tickets $10 -- $35
Friday and Saturday at 8 pm
Sunday at 2 pm

Featuring Feodor Chin, Julia Cho, Daniel Vincent Gordh, West Liang and understudies Michael Barnum, Elaine Loh, Tyler Wolfe and Julian Yuen

Groups of 10+ please e-mail ArtistsAtPlayLA@gmail.com for information about discounted tickets.

I had the chance to see it over the weekend and I loved it. With a great cast, and funny, thoughtful performances, I highly recommend checking it out. For further information about
Cowboy Versus Samurai
, check out the show's
Facebook event
and
Artists at Play's website
.