Hawaii Five-0 star narrates the feature documentary Linsanity.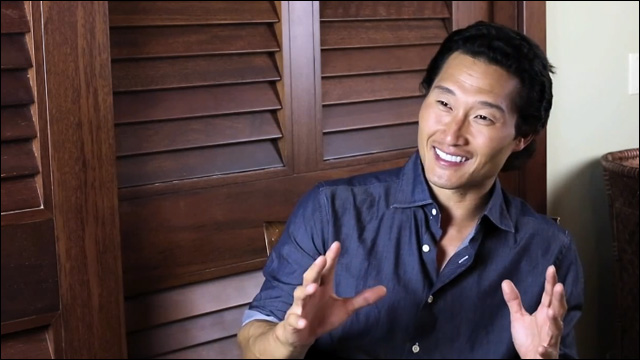 You know I am a fan of actor Daniel Dae Kim, star of
Hawaii Five-0
and
Lost
. But do you know who Daniel is a fan of? Jeremy Lin, of course. DDK caught the Linsanity too, and even bought a Knicks jersey to prove it. He also lent his voice as narrator of Evan Jackson Leong's feature documentary
Linsanity
, now in theaters.
But even long before Jeremy was a household name, Daniel was down with the Lin. Check out this
interview
where he talks about Linsanity, being a fan, and the first time he ever heard about this kid named Jeremy Lin:


Thanks for the shout out, Daniel.

Now... If you're a Jeremy Lin fan, and if you haven't made it out to the theaters to see Linsanity, time is running out. The film enters its third week in theaters, and you can help keep it going. Make some plans, tell a friend, and go check it out. Here's the full current list of theaters:

U.S. Theatrical



Boston

- AMC Boston Common | 175 Tremont Street | Boston, MA 02111

Honolulu

- Cons Pearlridge West | 98-1005 Moanalua Road, Suite 600 | Aiea, HI 96701

Houston

- Viva Cinema | 7500 Bellaire Boulevard, Suite 535 | Houston, TX 77036

Los Angeles/Orange County

- South Coast Village | 1561 W. Sunflower Avenue | Santa Ana, CA 92704
- AMC Atlantic Times Sq, 450 N. Atlantic Ave., Monterey Park, CA 91754

New Jersey

- Starplex Ridgefield Park 12 | 75 Challenger Road | Ridgefield Park, NJ 07660 (Opening 10/25)

New York

- AMC Loews Village, 66 3rd Ave, New York, NY 10003

San Francisco Bay Area

- Bluelight Cinemas, 21275 Stevens Creek Blvd, Cupertino, CA 95014
- Sundance Kabuki Cinema 1881 Post St, San Francisco, CA 94115
- Rialto Cinemas Elmwood | 2966 College Avenue | Berkeley, CA 94705 (Opening 10/25)

Washington

- Magic Lantern Theatre | 25 W. Main Avenue, Suite 150 | Spokane, WA 99201 (Opening 10/18)

Virginia

- Arlington Cinema & Drafthouse | 2903 Columbia Pike | Arlington, VA 22204 (Opening 10/25)

Taiwan Theatrical release on October 11th, 2013:

- For more details, click here.

Special One-Time Screenings
Tickets can only be purchased online before the screening date.

Little Rock, AR
Phoenix, AZ
Clovis, CA
Sacramento, CA [SOLD OUT]
Broomfield, CO [SOLD OUT]
Atlanta, GA
Johnston, IA
Champaign, IL
Fort Wayne, IN
Leawood, KS
Grand Rapids, MI
Southfield, MI
Maple Grove, MN
Columbia, MO
Morrisville, NC (7:30 Stone [SOLD OUT] and 7:00 Carmike)
Las Vegas, NV
Columbus, OH (Nov 7 and Nov 14)
Valley View, OH
West Homestead, PA [SOLD OUT]
Myrtle Beach, SC
Plano, TX
Virginia Beach, VA
Fitchburg, WI

Interested in bringing
Linsanity
to a local theater in your city? Learn how by going
here
. And for further information and updates about the movie, visit the
Linsanity
official website
and
Facebook page
.