Asians behaving badly... bank robbery edition!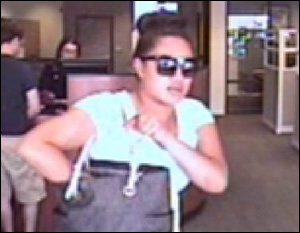 Bay Area, have you seen this bank robber? In Fremont, police are searching for an Asian or Pacific Islander woman who robbed a bank on Wednesday afternoon:
Police seek woman who robbed Fremont bank
.
The Fremont Police Department is asking for the public's help in identifying a female suspect who entered the Patelco Credit Union at about 1:45 pm, robbed a teller of an undisclosed amount of cash, and left the bank on foot. No one was injured, and no weapon was seen or used during the robbery.
The suspect is described as Asian or Pacific Islander, standing about 5 foot 8 and weighing about 170 pounds with dark brown hair that was pulled back. She was wearing large framed sunglasses, a white T-shirt, blue sweatpants, blue boxer shorts, that were partially visible, and red and white shoes.
Anyone who has information about the suspect is encouraged to contact Detective Travis MacDonald at Tmacdonald@fremont.gov or the Investigative Unit at 510-790-6900. You can also submit an anonymous tip via
Nixie
or at
fremontpolice.org/tip
.