University of Illinois math student Yongfei Ci is accused of killing Mengchen Huang in her apartment.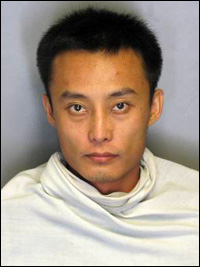 Damn. Some frightening news out of the University of Illinois at Urbana-Champaign, where a man was arrested for fatally stabbing a student in her apartment:
Stabbing victim identified as U. of I. student from China
.
29-year-old Yongfei Ci, a mathematics doctoral student from China, was arrested Friday in connection with the stabbing death of his ex-girlfriend Mengchen Huang, a graduate student in the School of Art and Design.
According to authorities, Ci forced his way into Huang's apartment and held her and her roommate against their will, binding both women with duct tape. While the roommate was tied up and locked in the bathroom, Ci stabbed Huang in the throat at least three times and slit her throat before fleeing.
The roommate was able to free herself and call 911. Police tracked Ci to a nearby motel where he ultimately surrendered without incident.
Police were called to the Lincoln Avenue address just before 11 a.m. Friday when a woman called 911 to report her roommate had been killed by an ex-boyfriend, police said in a news release. Police found the woman dead in the apartment.

The roommate told police the ex-boyfriend had forced his way into the apartment and held the two women against their will, police said. The roommate was locked in the bathroom, and she fled the apartment after the boyfriend left.

Police were able to identify a suspect and use his cellphone to locate him, as U. of I. police sent out an alert identifying Ci. He contacted police and told them he would surrender, according to the release.

Police went to a motel where they had determined Ci was and arrested him.

Ci was
charged
with one count of first degree murder, one count of home invasion and one count of aggravated kidnapping in court Monday. A preliminary hearing will be held on October 22.
More here:
Yongfei Ci, University Of Illinois Student, Held On $10 Million Bond After Ex-Girlfriend Mengchen Huang Murdered
.