25-year-old Mingdong Chen faces five counts of murder.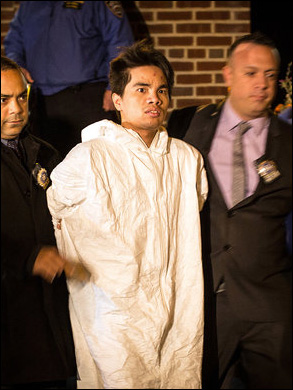 Horrific news out of New York... Over the weekend in Brooklyn, a man was arrested and charged in the stabbing deaths of his cousin's wife and her four young children:
Cousin charged with stabbing mom, 4 kids in Brooklyn held without bail
.
25-year-old Mingdong Chen faces five counts of murder for cutting and butchering 9-year-old Linda Zhuo, 7-year-old Amy Zhuo, 5-year-old Kevin Zhuo,18-month-old William Zhuo and their mother, 37-year-old Qiao Zhen Li with a kitchen knife.
Chen, an unemployed drifter who had been bouncing between different homes, had been staying with the family in their Sunset Park apartment for about a week.
It's unclear what set off the killings, but according to investigators, Chen expressed disillusionment with his life since coming to the United States from China in 2004, and jealousy towards those who had found success.
Investigators say at about 10:45 Saturday night, they received a 911 call. Upon arrival, officers found three of the victims dead at the scene. The mother and the 5-year-old boy were rushed to hospitals where they died.

Chen, 25, was taken into custody at the apartment. He was escorted by officers in bare feet while covered in blood.

Chen was also charged with assaulting a police officer while being questioned at a precinct after the grisly killings Saturday evening.

Chen has been charged with one count of first-degree murder and four counts of second-degree murder, as well as criminal possession of a weapon, assaulting a police officer and resisting arrest. He pleaded not guilty in court on Monday.
More here:
Before Carnage, Frantic Warnings of Relative's Odd Behavior
.