Our communities want inclusive and humane immigration reform now.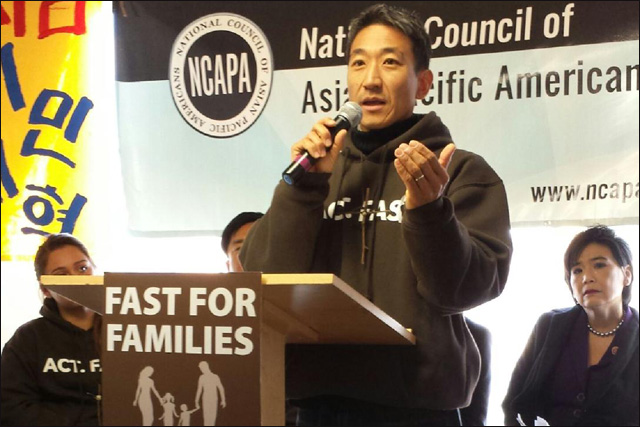 Asian American and Pacific Islander leaders, including representatives from the National Korean American Service & Education Consortium, are currently engaged in a daily fast with immigrant rights, faith and labor leaders to send a message to elected officials: our communities want inclusive and humane immigration reform now. They're fasting right now, sitting in a tent in Washington DC.
Fast for Families: A Call for Immigration Reform and Leadership
is intended to put pressure on congressional leaders and to get them to bring legislation that would improve our nation's broken immigration system to the House of Representatives floor.
One of the main fasters, NAKASEC Executive Director
Dae Joong Yoon
, is in his tenth day of the fast and has lost more than ten pounds in the last week. Here's a video of Dae Joong talking about why he's fasting for immigration reform:
Here's some more information about the fast:
This year, we have come the closest ever to achieving real immigration reform with a pathway to citizenship. In June, the U.S. Senate passed a comprehensive, bipartisan immigration bill (S.744). Now, the House of Representatives has chance to complete the dream for 11 million aspiring Americans by addressing the moral crisis that is our broken immigration system.

Unfortunately, the Republican leadership in the House continues to delay a vote on the one issue that holds strong bipartisan support and is backed by a breadth of communities and groups across the country.

Every day the House leadership stalls on a vote for immigration reform, families and communities suffer the impact of deportations, deaths on the border, exploitation at work and the fear of living in the shadows with no path to citizenship.

By fasting, we hope to follow the examples of Cesar Chavez, Martin Luther King Jr. and Mahatma Gandhi to touch the compassion and sensibilities of our elected leaders to address the moral crisis of an immigration system that fails to comport with our national values, our creeds and belief in justice.

Sang Hyug Jung of Los Angeles, who joined the fasters in solidarity, was no longer able to abstain from food due to health reasons. Jung, a Korean immigrant, is the father of two DREAMers who decided to leave work and his family to fast in Washington in hopes of sending a message to Speaker Boehner on immigration reform.
S.J. Jung of Minkwon Center for Community Action is also listed as one of the solidarity fasters.
Here is a
photo
of Kiran Ahuja, Executive Director of the White House Initiative on Asian Americans and Pacific Islanders, leading a prayer for strength in support of the fasters:
@KiranAhujaAAPI @WhiteHouseAAPI @nakasec kiran leading poignant prayer protect fasters keep strong @fast4families pic.twitter.com/X6lqnTyBPC

— tuyet duong (@tuyet_duong) November 22, 2013
For further information, and to see what you can do to help, visit the
Fast for Families website
.