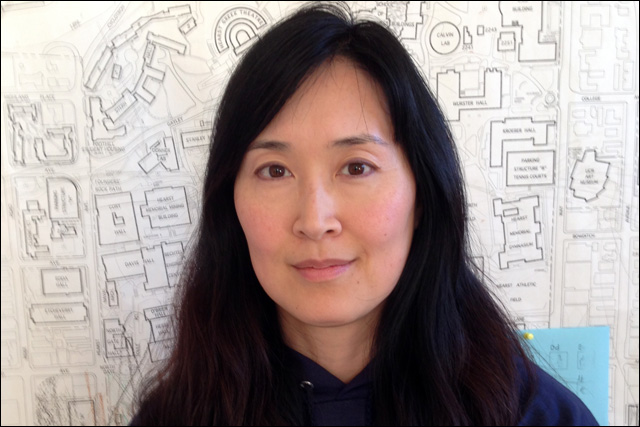 All right, check it out! You know what time it is. It's time to meet the
Angry Reader of the Week
, spotlighting you, the very special readers of this website. Over the years, I've been able to connect with a lot of cool folks, and this is a way of showing some appreciation and attention to the people who help make this blog what it is. This week's Angry Reader is Eliza Noh.
Who are you?
A student of life, mother, life partner, daughter, sister, granddaughter.
What are you?
Second-generation, Korean and Vietnamese American.
Where are you?
I'm currently in the East Bay (Northern CA), but I divide my time between here and the OC!
Where are you from?
Originally from Detroit and raised in Sugar Land, TX (yes, there's really a place called Sugar Land!)
What do you do?
I raise my kids, work as an Associate Professor and Coordinator of the Asian American Studies Program at Cal State Fullerton, teach martial arts, practice yoga, watch a lot of TV and, lately, read my Facebook (ever since I decided to upgrade to a smart phone from a Treo, which was like a very bad Blackberry).
What are you all about?
I'm all about trying to learn from my journey in this world. That's why I label myself first and foremost a "student of life." I'm also a teacher, but I've always thought I make a better student because I love learning. So far, my journey is teaching me the importance of connection and gratitude.
What makes you angry?
Injustice, inhumanity and suffering make me angry. Hopefully, the productive kind of anger, not internalized anger (meditation helps). As Audre Lorde said, anger can be a catalyst for change. I try to focus my anger productively through my work, whether it's research, teaching or representing a voice within my field, all with the goal of achieving positive social change for AAPIs and for all.