With singer Nobuko Miyamoto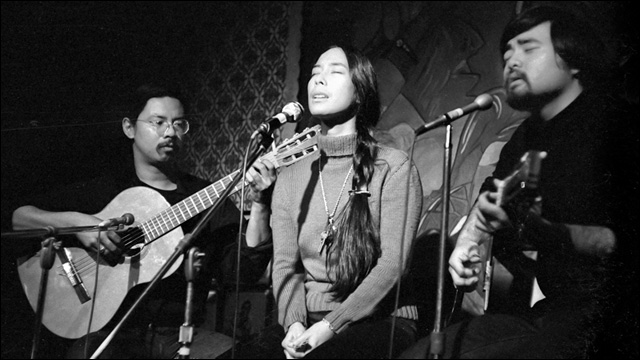 Hey, Philly! The legend herself, Nobuko Miyamoto, is coming to town. The woman who co-founded the pioneering Asian American folk group Yellow Pearl will be on stage on Friday, November 15 as part of
Asian Americans United
's 28th anniversary benefit concert and celebration. Over the years, AAU has worked with young people to develop communities, stand up for justice, and acquire leadership skills. Here's some more info about the event:
AAU's 28th Anniversary Concert and Celebration

Asian Americans United Presents
The Roots of Asian America: A Benefit Concert

The pivotal 1973 album, "A Grain of Sand," helped galvanize many young Asians to embrace pride in a newly-found identity and is widely recognized as the soundtrack of the first generation to call itself "Asian American."

Through song, photos, and video, Nobuko Miyamoto will share the story of the origins and unfolding of the Asian American movement, and then point a direction forward.

Friday, November 15
5:30 pm - 8:30 pm
Painted Bride Art Center, 230 Vine Street

In addition to the concert by Nobuko Miyamoto, we will have our hallmark AAU anniversary activities:

* connecting and reconnecting with AAU members, allies and supporters
* food, wine and beer (and chocolate!)
* dancing
* Standing Up for Justice Awards

Buy your tickets today at Brown Paper Tickets!
http://www.brownpapertickets.com/event/461249
Advanced tickets are at a reduced price.

Help AAU meet our fundraising goals by becoming an event sponsor or advertiser: AAU 28th Anniversary Sponsorship Package Link: http://www.scribd.com/doc/163603813/Sponsorship-Package-Asian-Americans-United-s-28th-Anniversary-Benefit-Concert

For further information, visit the
Facebook event
. To purchase your tickets,
click here
.