Reality series looking for "unique" Asian Americans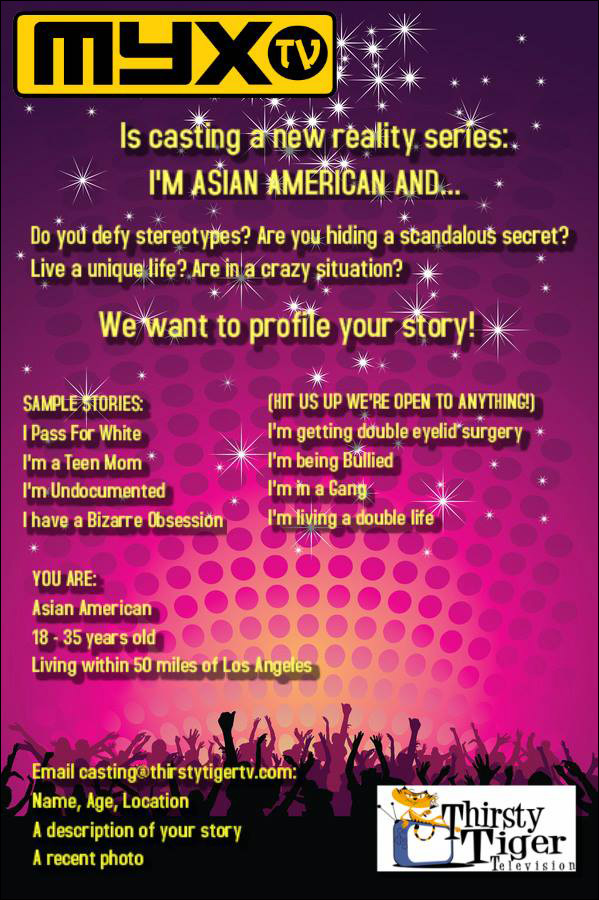 Got this casting call sent my way for a new series on MYX TV...
They're looking for interesting and noteworthy personalities to profile on
I'm Asian American and...
, a new show spotlighting Asian Americans who defy the stereotypes, have an unusual story, lifestyle, or secret obsession. Are you someone who is out-of-the-box or living in a unique situation? You should be on television.
The show is looking for Asian American subjects, 18-35 years old who live in Southern California area. Here are some more details:
MYX TV is casting a new reality series:

I'M ASIAN AMERICAN AND...

Do you defy stereotypes? Are you hiding a scandalous secret?
Live a unique life? Are in a crazy situation?

We want to profile your story!

SAMPLE STORIES (Hit us up we're open to anything!)

I Pass For White
I'm a Teen Mom
I'm Undocumented
I have a Bizarre Obsession
I'm getting double eyelid surgery
I'm being Bullied
I'm in a Gang
I'm living a double life

YOU ARE:
Asian American
18-35 years old
Living within 50 miles of Los Angeles

Email casting@thirstytiger.com:
Name, Age, Location
A description of your story
A recent photo

Some of these sample stories are a little dubious -- like, I'm a little uncertain how "scandalous" or "crazy" getting double eyelid surgery is. But you get the idea. Hopefully this show handles the topics with a little more sensitivity and nuance than the flyer suggests. If you think you've got that somethin' something' for the TV, refer to the info above and contact casting@thirstytigertv.com.