Classmates say he was the victim of bullying.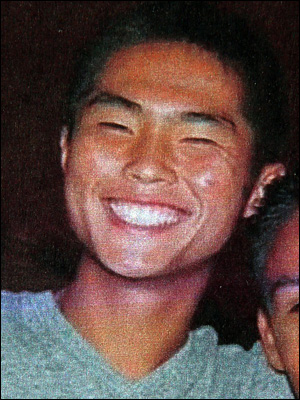 Tragic news out of the San Diego area... In Chula Vista, friends and classmates are in shock, mourning the death of of a high school student jumped who committed suicide on Friday night:
Vigil held for South Bay teen who took his own life: Friends say teen was victim of bullying
.
17-year-old Steven Liu, a senior at Otay Ranch High School, jumped to his death from a pedestrian bridge near campus. According to friends, he was well-liked and was an exceptional athlete, but some say he was also often picked on, suffered from low self-esteem and could be hard on himself.
Witnesses say they saw Liu crying on the ledge of the bridge before falling to his death:
"I told the person who I was with … that kid's going to jump," said Aaron Bianco. He was there driving near the bridge when he spotted the teen he says moments before was on the ledge crying.

Bianco described what happened next.

"The police officer I was with started first aid immediately," he said. "To be honest, it was obvious nothing was going to work."

He says he saw Liu's mother on the scene within seconds, alerted that Steven was at the bridge.

"She was wailing like I guess any mother would … wailing on the ground," said Bianco.

Many classmates have speculated that bullying drove Liu to take his own life. Both Chula Vista police and a spokesperson for the school district have said that "personal circumstances" were a factor, but they do not believe bullying played a role in his death.
More here:
Chula Vista teen's suicide rattles friends
.
Are you struggling with thoughts of suicide? There is help. Call the
National Suicide Prevention Lifeline
at 1-800-273-TALK (8255).