The Thing About Luck wins in the category of young people's literature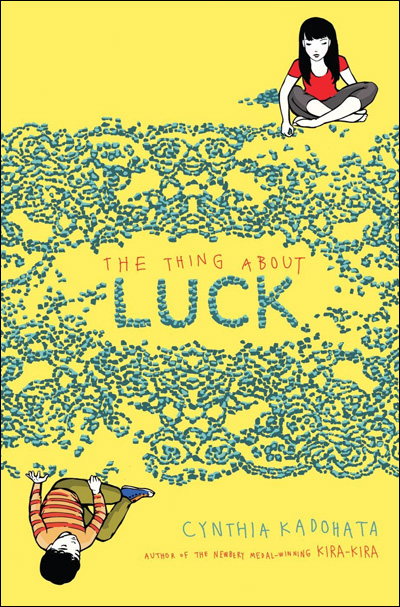 Congratulations to Cynthia Kadohata, who won the prestigious National Book Award in the category of young people's literature for her novel
The Thing About Luck
.
The annual awards, presented by the National Book Foundation, honor American authors for works published in the past year in fiction, nonfiction, poetry and young people's literature. :
2013 National Book Awards Go to McBride, Packer, Szybist, Kadohata
.
James McBride won the award in fiction for
The Good Lord Bird
, George Packer won the award in nonfiction for
The Unwinding: An Inner History of the New America
, and Mary Szybist won in the category of poetry for
Incarnadine
.
The Thing About Luck
is the story of 12-year-old Summer Miyamoto, who must make her own luck to save her intergenerational Japanese American family:
Summer knows that kouun means "good luck" in Japanese, and this year her family has none of it. Just when she thinks nothing else can possibly go wrong, an emergency whisks her parents away to Japan—right before harvest season. Summer and her little brother, Jaz, are left in the care of their grandparents, who come out of retirement in order to harvest wheat and help pay the bills.

The thing about Obaachan and Jiichan is that they are old-fashioned and demanding, and between helping Obaachan cook for the workers, covering for her when her back pain worsens, and worrying about her lonely little brother, Summer just barely has time to notice the attentions of their boss's cute son. But notice she does, and what begins as a welcome distraction from the hard work soon turns into a mess of its own.

Having thoroughly disappointed her grandmother, Summer figures the bad luck must be finished—but then it gets worse. And when that happens, Summer has to figure out how to change it herself, even if it means further displeasing Obaachan. Because it might be the only way to save her family.

Cynthia Kadohata
is also a previous winner of the Newbery Medal, one of the most prestigious awards for children's literature in the United States, for her 2005 novel
Kira-Kira
.
Side note: bummed that our pal Gene Luen Yang didn't win for his amazing graphic novel
Boxers
and
Saints
, which was also nominated for National Book Award in the same category. But
The Thing About Luck
actually comes highly recommend from Gene, so I'm looking forward to reading that too.