A benefit to raise funds for Typhoon Haiyan relief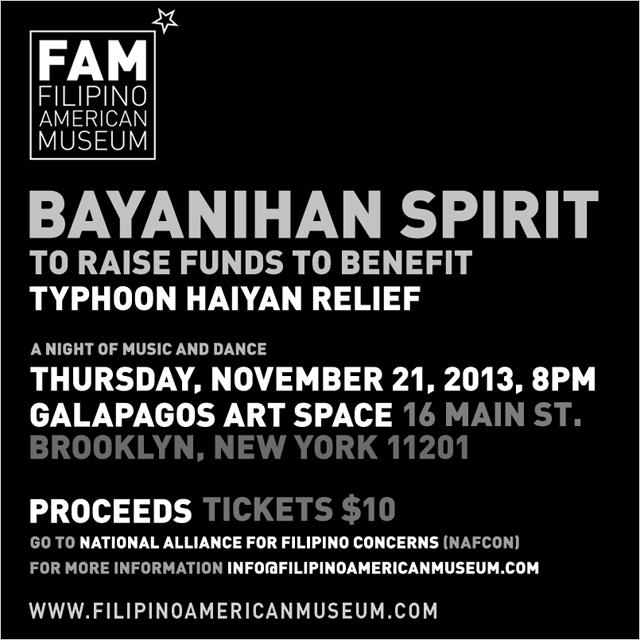 If you're in New York City, join the newly launched
Filipino American Museum
(FAM) for a benefit to raise funds for Typhoon Haiyan relief efforts. FAM has rallied an impressive group of individuals, businesses, local government officials, and community organizations to create an evening celebration of the
Bayanihan Spirit
. It's happening Thursday, November 21 at the Galapagos Art Space in Dumbo, Brooklyn.
All proceeds will go to the National Alliance for Filipino Concerns (NAFCON) whose "Taskforce Haiyan" is a grassroots relief effort coordinated directly between Filipinos in the U.S and those in affected areas of the Philippines. Funds will be spent on food, water and medical supplies.
Here are some more details about the event:
FAM presents BAYANIHAN SPIRIT

Thursday, November 21, 2013
8:00pm

Purchase tickets and make a donation here: https://www.artful.ly/store/events/2094

Performer list: http://cargocollective.com/FilipinoAmericaMuseum/BAYANIHAN-SPIRIT-Performer-list

THE LINE-UP:

Please join FAM (Filipino American Museum) for a night of BAYANIHAN SPIRIT to raise funds to benefit Typhoon Haiyan relief efforts.

Thursday, November 21, 2013, 8PM at

GALAPAGOS ART SPACE
16 Main Street
Brooklyn, New York 11201

Tickets $10

Emcee: Miss Info, HOT 97

Readings
Kilusan Bautista
Luis Francia
Bino Realuyo
Lara Stapleton

Performance
Deep Foundation
DILIA*
Hydroponikz
!llmind
Joe Bataan
Masia One
Norman Vladimir
Smokey Robotic

DJ
GETLIVE!
Jon Santos

Demonstration
Pekiti Tirsia Kali Elite

Host committee
Augusto Arbizo
Christelle de Castro
Rik Cordero
Stephen Decker
Avena Gallagher
Josh Kline
Michelle Lopez
Paul Pfeiffer
Carissa Rodriguez

Community Partners:
Asian American Journalists Association (AAJA) New York
ANAKBAYAN
Asian American Arts Alliance
Asian Cinevision
Asian/Pacific/American Institute at NYU
Asian American Writers' Workshop
BAYAN USA
Filipinas for Rights and Empowerment (FiRE NYC)
Filipino Mundo-NYC
Ma-Yi Theater Company
New York Committee for Human Rights in the Philippines (NYCHRP)
New York Asian Women's Center
Next Day Better
Assemblymember Ron Kim, Assembly District 40
The Filipino American Lawyers Association of New York (FALANY)
Two Trees Management Co
UniPro

Food
Marra's Bakery & Coffee Shop
Red Egg
Salome Tarts

All proceeds go to National Alliance for Filipino Concerns (NAFCON).
To buy tickets or to donate visit www.filipinoamericanmuseum.com

For further information about the benefit, visit the Filipino American Museum
website
.