A spicy art exhibition inspired by Sriracha and Tapatio.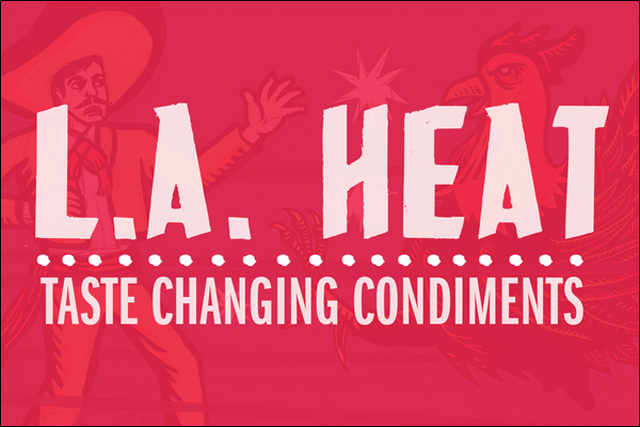 This is a worthy crowd-funding campaign if I've ever seen one. Presented by the Chinese American Museum,
L.A. Heat: Taste-Changing Condiments
is an upcoming exhibition that offers a curated selection of artwork inspired by Sriracha and/or Tapatío from established and emerging Los Angeles artists. Are you hearing me? An art exhibition inspired by hot sauces. Say no more. I'm in.
This spicy exhibition is coming to the Chinese American Museum in March 2014 and will run through July 2014. In order to make this happen, they've launched an
Indiegogo campaign
with a variety of support levels. Here are some more details about the exhibition:
"Hot sauce must be hot. If you don't like it hot, use less." -- David Tran, creator of Sriracha Hot Sauce

Can you imagine pho without Sriracha? Can you imagine tacos without Tapatío? Now can you imagine breathing without air? That's how we at the museum feel – that it's impossible to live without these two sauces so we are creating an art exhibition to celebrate Tapatío and the much coveted rooster sauce.

Our upcoming exhibition L.A. Heat: Taste-Changing Condiments examines Los Angeles in a new way by exploring two hot sauces that are produced in Los Angeles. What is the significance that these two quintessential American condiments were developed and made in Los Angeles? What can it tell us about our city and our city's role in America's shifting culinary traditions? And what will happen when we assemble 25 Los Angeles based artists together to create work based off of red-hot, mouth burning condiments? Donate now to see what happens!

Your contributions will enable the museum to develop a catalog and exhibit works inspired by Sriracha and/or Tapatío in a variety of mediums from established as well as emerging artists based in Los Angeles.

The exhibit is scheduled to open in March 2014. We are open to the public and our admission is free.
The goal is to raise $10,000 by January 3. The campaign will receive all funds raised even if it doesn't reach its goal. For further information, and to make a pledge, visit the
Indiegogo campaign
. For more on the exhibition, visit the Chinese American Museum
website
.