Scott and Mei Kum Jones were apparently planning to divorce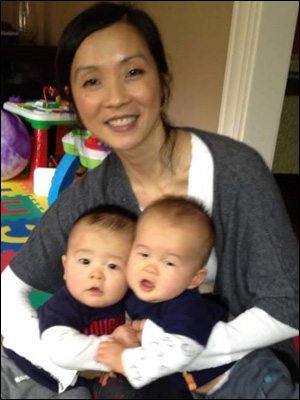 Tragic news out of the Boston area... In Arlington, a married couple and their twin baby sons were found dead inside their home on Monday afternoon in an apparent murder-suicide:
Murder-suicide seen in deaths of parents, two babies, in Arlington
.
According to officials, it's likely that 43-year-old Scott Jones strangled his wife, 43-year-old Mei Kum Jones, and slashed the throats of their twin sons Colt and Cameron, before taking his own life. The boys would have have turned one-year-old next week. Investigators have reportedly found the knife used in the murders.
The couple was apparently going through marital problems, and were planning to divorce. Police were previously called to the residence because Scott Jones once threatened to kill himself.
An autopsy is underway today at the medical examiner's office to determine the exact cause of death of Scott D. Jones, his wife, Mei Kum Jones, both 43, and and their sons, Colt and Cameron, who would have turned a year old on Nov. 26. The bodies of all four were found at about noon Monday at their home on a quiet street.

The Middlesex County district attorney's office and the Arlington police have not provided any other details on the case except to say there is no threat to public safety. Arlington Police Chief Frederick Ryan said today he appreciated the public's patience.

"We recognize the public is seeking information. We appreciate their patience as we go through the investigation. We are confident the person responsible for the crimes is deceased and was found inside the home along with the victims," Ryan said.

More here:
Arlington couple found dead were planning divorce