Computer-generated "Sweetie" created to lure web cam sex tourists.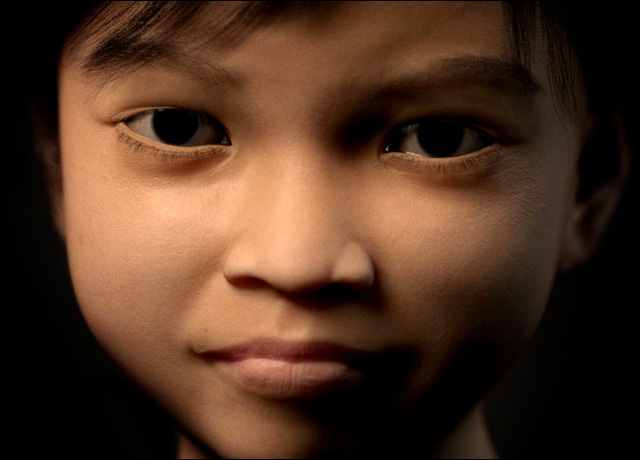 This is really unsettling... Meet Sweetie, a 10-year-old girl from the Philippines who tracked down and identified 1,000 pedophiles. Except she isn't real -- she's a computer-generated avatar used as bait to lure online sex predators who target children:
Meet 'Sweetie,' a virtual girl created to target child predators
.
"Sweetie" was created by the Dutch children's rights organization Terre des Hommes as part of a campaign to end "web cam sex tourism," where men go online to pay children from developing countries to perform sex acts on camera. According to the charity, 20,000 men contacted Sweetie within the first 10 weeks. Watch this
video
about the investigation:
More on the virtual sting operation:
Over the course of a 2.5-month sting operation, the group says, Sweetie helped Terre des Hommes identify more than 1,000 adults from 71 countries willing to pay children in developing countries to perform sex acts before a Webcam. On Monday, it announced that it would hand over video footage of the interactions to international police organization Interpol.

Sweetie first interacted with the potential predators in public chat rooms. Researchers made sure to model their alter ego's online conversation, in style and tone, to that of a preteen Filipino girl.

As a result of their investigation, Terre des Hommes handed over the identities of 1,000 adults from 71 countries to Interpol, but it remains to be see if any of the offenders will be prosecuted. The organization has started a
petition
aimed at pressing authorities and governments to do more to stop web cam sex tourism.
More here:
"Sweetie" Sting: Dutch activists claim to nab 1,000 sex predators using computer-generated "child"