Queens congresswoman was attacked from behind and robbed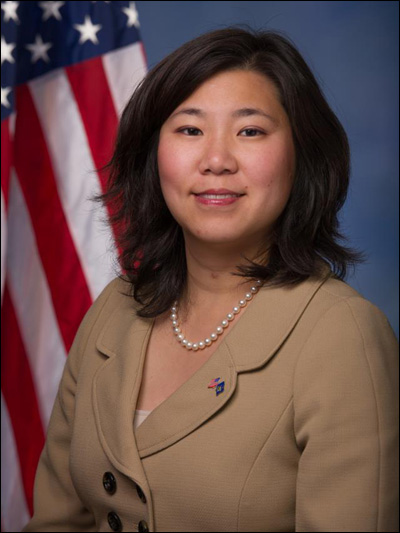 Holy crap. Rep. Grace Meng (D-NY) was assaulted and robbed in Washington DC on Tuesday night:
Rep. Grace Meng Attacked, Robbed In Washington
.
The congresswoman, who represents the 6th congressional district in Queens, was walking home from dinner when she was hit over the head at Sixth Street and Pennsylvania Avenue near Capitol Hill. As she fell to the ground, the assailant grabbed her handbag and fled on foot.
Thankfully, Rep. Meng wasn't seriously injured. She had bruises from the blow to her head and on her chin, which slammed into the ground, as well as a skinned knee:
Meng was headed toward her D.C. apartment after having dinner at a restaurant on 8th Street Southeast, when the robber struck her in the back of the head, according to information from police and a statement from her office. She fell to the ground, and the perpetrator took her black Gucci handbag and ran off, police and the statement said.

A police report indicated that Meng was disoriented during when officers arrived at the scene. The officers found she had suffered injuries to her left knee, left hand and the left side of her face, and it was later learned that she had also bruised the back of her head.

Meng spoke with WCBS 880's Peter Haskell about the incident.

"As I was walking, I got behind the head. I didn't see anyone or hear anyone," she said.

Rep. Meng, the first Asian American elected to represent New York in Congress, has resumed regular activities.
Thanks everyone for your concern and kind words. I was back at work today and am doing well.

— Grace Meng (@RepGraceMeng) November 21, 2013
Unfortunately, she wasn't able to provide police with a description of a suspect or suspects. Frightening. And it happened at 8:30 in the evening -- not particularly late. But good to hear that she's okay.
More here:
Queens U.S. Rep. Grace Meng Attacked In Washington, D.C.