Sawant defies city's political establishment and defeats prominent incumbent.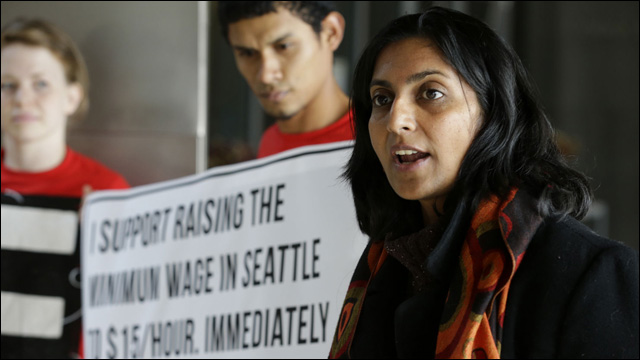 Well, that's what's up. In Seattle, voters have elected a socialist to the city council for the first time in modern history:
Socialist Kshama Sawant Elected To Seattle City Council
.
Kshama Sawant, a 41-year-old college economics professor who participated in the Occupy Wall Street protests, defied the city's political establishment and defeated prominent 16-year incumbent Richard Conlin, taking 50.3 percent of the vote to Conlin's 49.4 percent.
And while "socialist" is a label often flung around at politicians like a dirty word -- usually by people who have no idea what it actually means -- it's a banner that Sawant openly flew during her campaign:
This year, though, she pushed a platform that resonated with the city. She backed efforts to raise the minimum wage to $15; called for rent control in the city where rental prices keep climbing; and supported a tax on millionaires to help fund a public transit system.

"We want to win $15 an hour to make life easier for Seattle residents, but we will be making a few things clear: This will not be easy," said Sawant. "We will be going up against the might of corporations, big business and the super wealthy who will fight tooth and nail to prevent this from happening."

"Even though we don't believe in capitalism, we fight for reforms within the system because the experience of fighting for them raises the political consciousness of the working class and builds solidarity," she added.

Before Sawant, no socialist candidate had won a citywide office in Seattle in the past 100 years.
More here:
Socialist wins seat on Seattle city council
.