Meet Ramya Ramana, 2014 New York City Youth Poet Laureate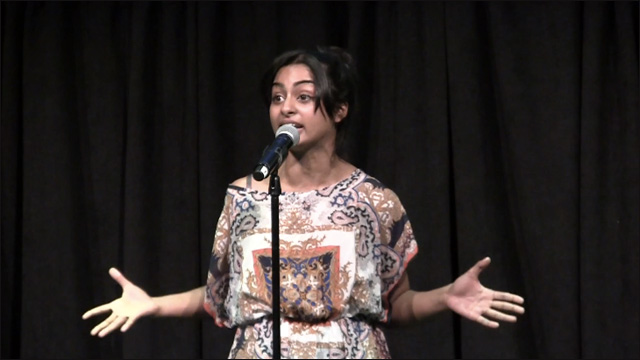 Thanks to
TWO-BROWNGIRLS
for the heads up... Some powerful, moving spoken word for your Friday. Here's 18-year-old
Ramya Ramana
, 2014 New York City Youth Poet Laureate, performing her personal poem,
"Miss America"
last month at the NYC Votes 2014 Slam Final. For anyone who had words and clenched fists for all those racist haters after Nina Davuluri was crowned Miss America, this is for you:
Here's another video of Ramya,
"It Is Not Your Problem,"
a voting-themed poem performed at the same NYC Votes competition at Lincoln Center, where she claimed a crown of her own as Youth Poet Laureate:
Ramya is a youth activist, poet and writer. She recently won the New York Knicks Poetry Slam that awarded her with a full scholarship to St. John's University, where she is a freshman studying Philosophy and Government and Politics. Follow updates on her
Facebook page
.
Source:
TWO-BROWNGIRLS