"Which number are you singing? Number 39 with rice?"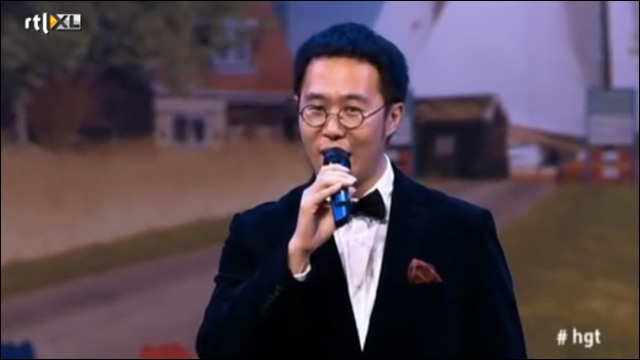 Who knew? If you want to see some blatant-ass racism, look no further than Dutch television. Meet Cornelis Willem Heuckeroth, a judge on the TV talent show
Holland's Got Talent
who recently went well out of his way to be a racist asshole:
Shockingly Racist Got Talent Judge Makes Howard Stern Look Tame
.
Xiao Wang, who is currently getting his PhD in economics and business, happens to be an
amazing
opera singer on the side. He recently took the
Holland's Got Talent
stage and stunned the audience with his rendition of a Verdi aria, receiving a standing audition. Heuckeroth, however, is more interested in dumbing down the entire moment with racist jerkface Chinese food jokes.
Let's go to the video:
[UPDATE: It seems the original video is no longer available on YouTube, due to a "copyright claim" by Wixen Music Publishing, Inc." Funny -- none of the other
Holland's Got Talent
videos on the RTL Talent YouTube channel seem to have been removed under such claims. Here's an alternate version, for now.]
[UPDATE: Turns out, I kept getting copyright violation notices from Wixen Music Publishing, Inc. because the original footage includes a portion of the song "Don't Stop Believin.'" So I've edited the end of the clip to omit the part where the song plays.]
The whole segment actually shows remarkable restraint by not excessively playing up Xiao's inherent lovable dorkiness, but Heuckeroth seriously cannot resist being an asshole. It's nearly unwatchable.
I don't know a whole lot about Dutch... well, anything. So I don't know who the hell this Heuckeroth cat is. But he seems highly unqualified as a talent show judge. And as a general human being.