Pearl Harbor-themed episode involves flashback plot set in Hawaii's internment camps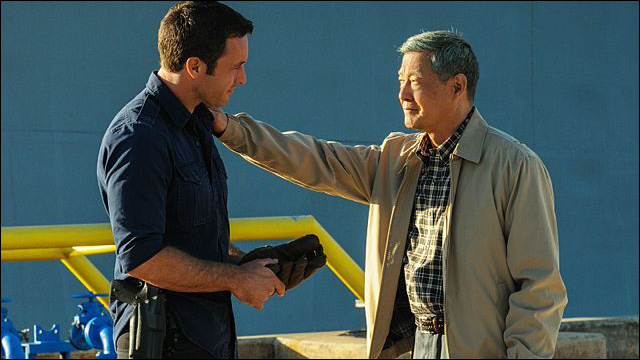 I watch a lot of television.
Hawaii Five-0
is easily one of my favorite guilty pleasures. It's ridiculous on so many levels, but hey, it's an action/cop procedural that delivers a satisfying amount of shootouts, car chases and criminal plots. It also regularly employs an awesome number of APA talent both in front and behind the camera, and goes to great lengths to reflect the diversity of the Aloha State. That's a show I can get behind.
So this week's episode is particularly interesting. The Pearl Harbor-themed episode, "Ho'onani Makuakane (Honor Thy Father)," has a flashback plot set in Hawaii's Japanese internment camps. The Five-0 team winds up investigating a cold case involving an elderly man seeking revenge for a murder he witnessed while incarcerated at the Honouliuli internment camp in 1943. The show actually re-created the camp for the episode.
'Five-0' recreates internment camp
Here's a
video
with star Daniel Dae Kim and some great behind-the-scenes footage:
And here's a personal message from Daniel Dae Kim, on why this episode is significant to him:
Networks often talk about "very special episodes," but episode 410 of HAWAII FIVE-0 is deserving of that description. Rarely do police dramas delve into subjects like the internment of Japanese-Americans during World War II, but this small and shameful chapter in our history is one that reminds us all of a valuable lesson: that we can never measure an American's patriotism solely by their appearance or ancestry. I've never been prouder of HAWAII FIVE-0, and I applaud our producers for tackling a topic that goes beyond a crime of the week. It is my sincere hope that you find this episode, highlighted by some remarkable performances, as special as we do.

The episode, entitled Ho'onani Makuakane (Honor Thy Father), airs Friday, December 13 at 9:00pm-10:00pm ET/PT on CBS. It was filmed on location at the historic battleship Missouri Memorial and outside the USS Arizona Memorial.

Heads up, the episode airs this Friday, December 13 on CBS.