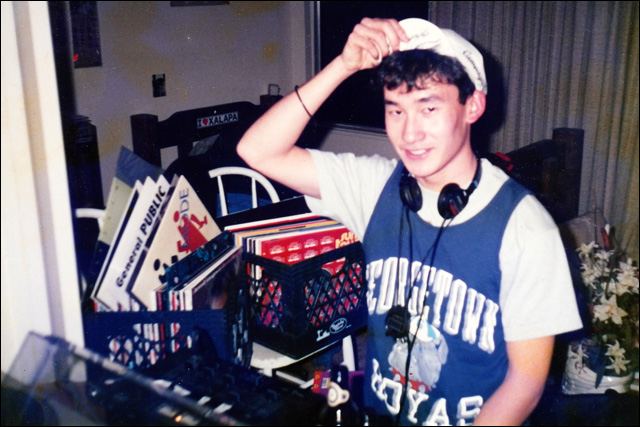 Hey, everybody. You know what's up. Once again, allow me to introduce you to the
Angry Reader of the Week
, spotlighting you, the very special readers of this website. Over the years, I've been able to connect with a lot of cool folks, and this is a way of showing some appreciation and attention to the people who help make this blog what it is. This week's Angry Reader is Todd Inoue.
Who are you?
Todd Inoue. Dad. Hubby. Writer. Footballer. Natto lover.
Staunch defender of the South Bay
. Proponent of New Order's "Bizarre Love Triangle" as
the Asian American Anthem
. Longtime
Angry Asian Man
reader.
What are you?
I'm a 40-something yonsei (fourth-generation) Japanese American defensive midfielder with ambitions to move forward.
Where are you?
A cubicle, but it's a nice cubicle.
Where are you from?
Snappy comeback: "I'm from a place called 'Fresh Off a Punk's Ass' and you're making me homesick."
Born at San Jose Hospital, grew up in Albany CA, moved back to SJ in fifth grade and never left. I'm a Bay Area OG. Just win, baby.
What do you do?
I spent most of my professional career ('90s-'00s) writing and editing for publications large and small, from 'zines to alt-weeklies to national mags—mostly about music and culture. I was the original music editor and
InterrogAsian
columnist for Hyphen magazine back in the early-mid 2000s. Now I write social media posts for a big company (guess which one) and do the occasional
KQED piece
when motivation strikes. I don't have to grind anymore, but I've been there and respect it.
What are you all about?
As in soccer, as in life: You don't stop playing because you get old, you get old because you stop playing.
What makes you angry?
1) People in their '30s who whine "I'm so OLD!!!"
2) New jacks that try to bully others on the pitch. Show respect, get respect.
3) Guys (it's always guys) who bust
SBDs
in the crowd at concerts.
4) Service and convenience fees on tickets. It's gotten completely out of hand.
5) When people call me "Scott". It happens more than you think.