Devyani Khobragade, accused of visa fraud, says she suffered "indignities"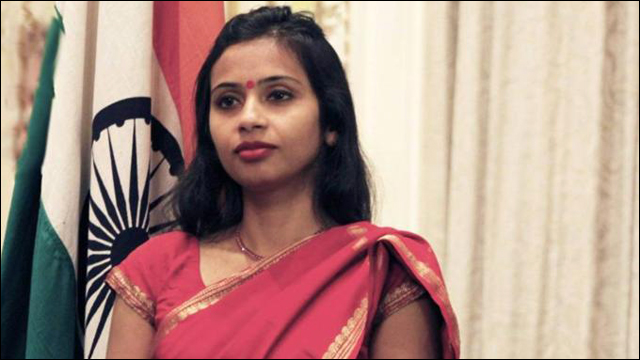 In New York City, the arrest of an Indian diplomat on visa charges has sparked international outrage. Devyani Khobragade, India's deputy consul general, says she suffered "indignities" when she handcuffed, subjected to a strip search, cavity search and DNA swabbing, and placed in a holdup "with common criminals and drug addicts" by U.S. authorities despite her "incessant assertions of immunity."
Devyani Khobragade Says She Faced Cavity Search In NYC; Outrage In India After Diplomat Arrested
Khobragade, who was arrested last Thursday outside of her daughter's school in Manhattan, is accused of submitting false documents to obtain a work visa for her housekeeper, Sangeeta Richard. According to prosecutors, Khobragade claimed on visa application documents she paid her Indian maid $4,500 per month, but that she actually paid her around five hundred dollars a month -- that's around $3.31 per hour.
The investigating officer's affidavit goes on to say that during a meeting at Ms. Khobragade's house in Delhi with the prospective domestic worker, Ms. Khobragade agreed to pay 30,000 rupees a month for babysitting and additional household work in New York.

According to the domestic help and her partner, named in the statement as Witness 1 and Witness 2, at a subsequent meeting, Ms. Khobragade agreed to pay the domestic help a starting salary of 25,000 rupees and overtime of 5,000 rupees.

The investigating officer said that at exchange rates at the time, the salary equated to a rate of $3.31 an hour or $573.07 a month.

The visa application form, submitted by Ms. Khobragade, according to the investigator, stated that she would pay the domestic worker $4,500 dollars a month.

The investigating officer went on to record that Ms. Khobragade instructed the domestic worker to tell U.S. Embassy officials that she was being paid $9.50 an hour, and told her not to mention the 30,000 rupee salary.

If convicted, Khobragade faces a maximum sentence of ten years for visa fraud and five years for making a false declaration.
The case has touched a public nerve in India, and created a rift in historically good India-U.S. relations. Indian officials are calling Khobragade's treatment "deplorable," "barbaric," and a "matter of national outrage" with demands that all charges against her be dropped, as well as an apology from the United States.
'Nannygate' rocks India-US relations
Meanwhile, as the State Department attempts to defuse an escalating diplomatic crisis, investigators maintain that Khobragade's diplomatic immunity is limited "with respect to only those acts undertaken in her official capacity." Which means she is not getting off the hook.
Nearly all of the attention on this case is focused on Khobragade's treatment. I don't know much about international diplomacy, but it seems that a lot of the furor could have been avoided if her arrest had been handled more delicately. That said, there has been very little attention given to the treatment of Sangeeta Richard. Does no one care about the alleged exploitation that actually set off this whole thing? The Indian government and media have made it pretty clear whose side they're on.
More here:
The Full Allegations Against Indian Diplomat Devyani Khobragade