"Empty your mind, be formless, shapeless -- like water."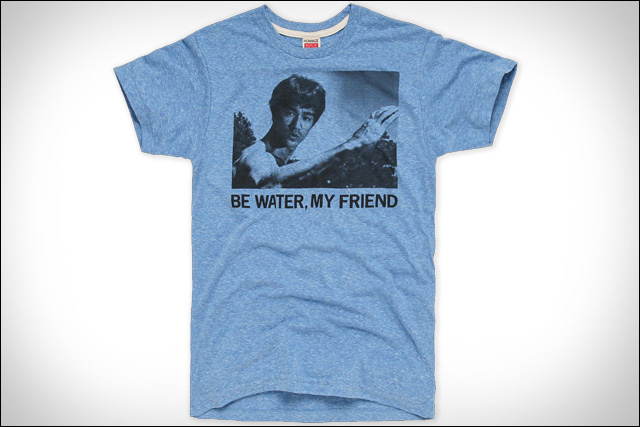 Way excited about this new
Be Water, My Friend
t-shirt design that just dropped from HOMAGE. Featuring the master himself, and one of his most famous quotes, it's an inspired shirt for any Bruce fan.
The design is okay, but I'm mainly hyped because it's Homage. I'm a fan. The company usually specializes in vintage-style sports-themed shirts (with a lot of love for Ohio), but they sometimes also delve into pop culture icons like Bruce. No joke, I own like seven Homage shirts. They're quality, comfortable, and look awesome.
"Don't get set into one form, adapt it and build your own, and let it grow, be like water. Empty your mind, be formless, shapeless -- like water. Now you put water in a cup, it becomes the cup; you put water into a bottle it becomes the bottle; you put it in a teapot it becomes the teapot. Now water can flow or it can crash. Be water, my friend."

I just bought my shirt. If you order one too, right now, you can use this
promo code
to get 25% off your first online order from Homage.com. The offer is good until around noon on December 19. Be water, my friend.