If I had to pay $784 for an ambulance ride, I'd stay unknown too.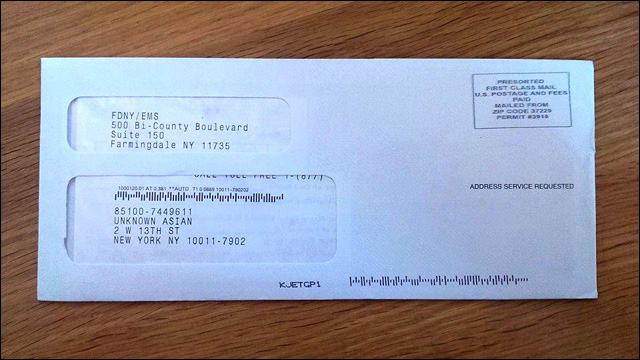 Unknown Asian? Is Unknown Asian in the house? The FDNY is looking for you. The Department recently sent a bill demanding payment for an ambulance transport to someone simply addressed as
"Unknown Asian."
Huh?
FDNY sends ambulance bill to 'Unknown Asian'
The mysterious bill was delivered yesterday to The New School's 2 W. 13th St. building, where there are indeed a handful of Asian staffers -- but they are all Known Asians. In fact, there a lot of Asian students at Parsons. I guess the FDNY was crossing its fingers and hoping it would find its way to the correct Asian?
The $784.40 bill pertains to an emergency last month in which the Unknown Asian was transported from 255 W. 14th St. to Beth Israel Medical Center. Somewhere along the way, somebody made a mistake...
A FDNY source explained how the bill was generated.

When the female patient was transported at about 3 a.m. on Nov. 1 for a "drug or intoxication" issue, she could not be identified by name but a person accompanying them said the patient lived in a New School dorm so the EMS workers filled out the form with "unknown" for the first name and "Asian" for the last name, the source said.

The form was processed and sent to a fire department billing contractor, which then sent out the oddly-addressed bill.

"It's a clerical or administration error that the bill was sent out," the source said.

Sounds like someone has to answer for some sloppy paperwork. I don't know if you guys realize this, but there are actually a lot of "Unknown Asian" people in New York City. I don't think this bill is getting paid.
But yo, if I was being asked to pay $784 for an ambulance ride, I'd stay unknown too.
More here:
Whoops: Ambulance Bill Sent To "Unknown Asian"