Vancouver police investigating the incident as a possible hate crime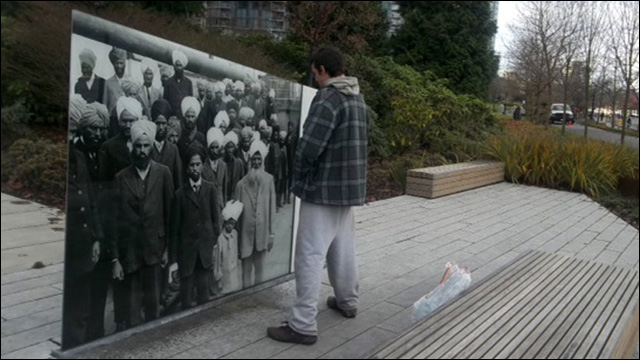 Happy Monday. In case you needed a reminder of the awful people in this world... In Vancouver, police are investigating a possible hate crime after a man was photographed urinating on a memorial to an infamous incident in the city's immigration history, after trying to pick a fight with an Indian tourist and his friend.
Man who urinated on Vancouver memorial may have committed a hate crime
The incident occurred last Monday at the Komagata Maru memorial, which pays tribute to 356 Indian immigrants who were infamously denied entry to Canada in 1914 after spending two months confined to the Japanese vessel anchored in Vancouver's Coal Harbour. Long story short, Vancouver was mad racist towards yellow and brown people back then. Some things never change.
The man allegedly tried to start a fight with the tourist and his friend near the memorial, then proceeded to pee on the monument, which is an enlarged photograph of the Komagatu Maru's Sikh passengers.
Plz RT: The guy who urinated on the Komagata Maru memorial in Vancouver. If you can ID him, please contact VPD. pic.twitter.com/eTQkGWKUSu

— INKALAAB (@Inkalaabi) December 6, 2013


Last Monday, Pargan Mattu of Surrey, B.C., was showing a visiting friend the memorial to the infamous Komagata Maru incident, which in 1914 saw almost 400 mostly Sikh immigrants from India turned away from Canada after spending two months confined to the Japanese vessel anchored in Vancouver's Coal Harbour.

The incident is commemorated by a memorial unveiled in 2012 near the harbour in downtown Vancouver. It's a blown-up photograph of Komagata Maru passengers accompanied by an account of what happened.

As Mattu and his friend took in the memorial and snapped photos, a man approached the monument and threw a soccer ball at it.

When Mattu challenged the man, he went up to the monument and urinated on it, ignoring Mattu's warning that he was taking photos and would call the police.

Vancouver police have not yet identified the suspect, but he faces a potential charge of mischief. Police say the incident could also qualify as a hate crime if the racist urinator knew the significance of the memorial when he took his hate piss. I have no idea how they'd prove that, but that's apparently what counts.
Anyone with information on racist urinator's identity is asked to contact the Vancouver Police Department.
More here:
Man allegedly caught urinating on Komagata Maru memorial
Prime Minister Stephen Harper apologized on behalf of Canada for the Komagata Maru incident in 2008. To learn more about the incident, visit this informative website:
Komagata Maru Journey