Steve Yamamoto just wanted to thank Safeway for shutting down 72 Dominick's stores.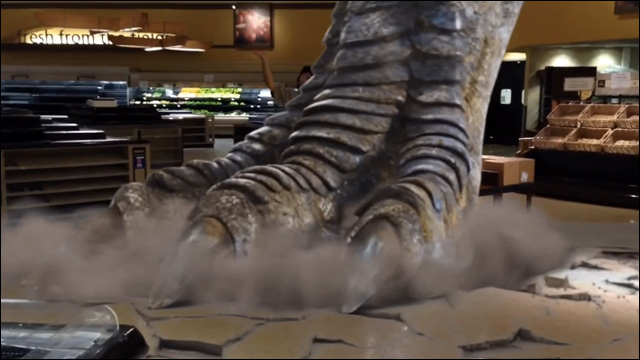 So you're an employee at a supermarket that's closing down for good. You and your co-workers will soon be out of a job. Might as well make the most of it and have some fun. That's what one Chicago-area supermarket worker did, making a funny, explosion-filled video clip starring himself and his co-workers getting caught in the chaos of a doomed Dominick's store. For his efforts, he got suspended. On his last day on the job.
Suburban Dominick's Employee Suspended On Last Day For Satirical YouTube Clip
Steve Yamamoto, a former employee at the closing Dominick's store in Glen Ellyn, made a funny, sarcastic video to commemorate the shutdown of 72 stores, leaving an estimated 6,000 workers without a job. The
video
, addressed to parent company Safeway, features dinosaurs, robots, gunfire and hauntingly empty shelves, in the epic, explosive end of a Dominick's store:
For his efforts, Yamamoto received a suspension. On his last day. Seriously, he showed up Saturday for his last shift and was informed by his manager that he was suspended. It's ridiculous, but Steve seems cool with it -- he was already going to be out of a job anyway. At least he went out with some style.
More here:
Dominick's Worker Suspended on Last Day Over YouTube Video
(Thanks, Tiffany.)