Featuring Tamlyn Tomita, Lynn Chen and a band of merry misfit music makers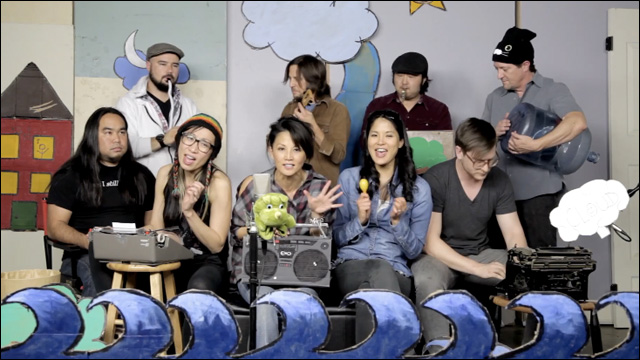 So this awesome thing totally happened... In this super-fun video, singer/songwriter
Jane Lui
is joined by friends Tamlyn Tomita and Lynn Chen, and leads a band of merry misfit music makers in an ultra-homemade one-take cover of
TLC's "Waterfalls,"
complete with typewriters, a toy piano, a water jugand cardboard cutouts. (Yes, I make an appearance somewhere in there too.) Take a look:
This was a blast. If it looks like we're having fun, it's because we really, really were. Much love to Bobby Cressey (melodica), Greg Friedman (ukelele), Goh Nakamura (toy piano/kazoo), Daniel Blinkoff (jug), Andy Lowe (paper feed/service bell) and Danny Morledge (typewriter #1). Plus Marvin Yueh & Pear Kasrirarat rocking the waves, Jon Ross on mic duty, and Dave Boyle manning the camera. So fun.
And a huge thank you to mad musical genius Jane Lui for bringing it all together. For more information on Jane and her music, check out her
official website
and subscribe to her
YouTube channel
.