Hashtag sets off a massive conversation about race, feminism and stereotypes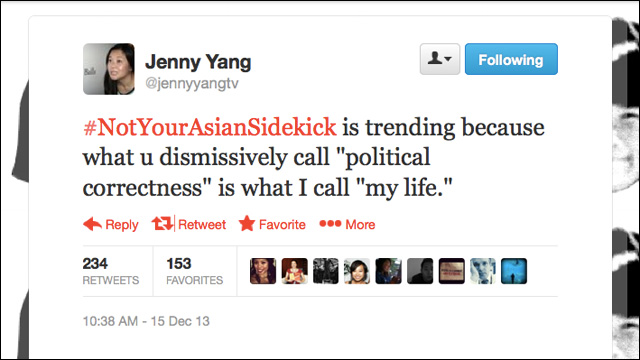 If you're active on Twitter, then no doubt you've seen the
#NotYourAsianSidekick
hashtag that sprouted up, quickly became a global conversation that lasted most of Sunday, and as I write this on Monday morning, is still a top trending topic. The hashtag conversation, started by writer/activist Suey Park, was an attempt to create a space for intelligent, provocative dialogue about Asian American feminism and stereotypes.
It was wildly successful. Huge props to the folks who set it off and kept the momentum going. The conversation ranged from confronting patriarchy in the Asian American community, to addressing racism in white feminist spaces, as well as ugly, persistent stereotypes about Asian sexuality. It was opportunity for folks to join in and speak out on issues rarely discussed and often ignored in even the most seemingly progressive spaces.
If you haven't checked out
#NotYourAsianSidekick
, catch up on the conversation on Twitter.
#NotYourAsianSidekick This is beginning b/c for too long I've complained about not having an AAPI space that represents me.

— Suey Park (@suey_park) December 15, 2013
Nobody will GIVE us a space. We need to MAKE a space to use our voices, build community, and be heard. #NotYourAsianSidekick

— Suey Park (@suey_park) December 15, 2013
#NotYourAsianSidekick is a convo to discuss the problems within the AAPI community and issues with white feminism.

— Suey Park (@suey_park) December 15, 2013
#NotYourAsianSidekick is MAKING room for those of us silenced by the AAPI mainstream. Queer/disabled/mixed/South Asian/sex-positive. All.

— Suey Park (@suey_park) December 15, 2013
#NotYourAsianSidekick because our stories and hxstories are glorious and badass as hell, because we deserve the recognition and equity.

— Juliet Shen (@Juliet_Shen) December 16, 2013
When ppl laugh at my stories of microaggression & think it's some silly thing rather than a threat to my personhood #NotYourAsianSidekick

— Wendy Xu (@AngrygirLcomics) December 15, 2013
#NotYourAsianSidekick because I don't co-sign the anti-blackness implied when we're propped up as the "model minority"

— pdxPinay (@pdxPinay) December 15, 2013
Asian American women who speak about their experiences are vilified as sellouts w/out anyone actually listening #NotYourAsianSidekick

— N'jaila Rhee (@BlasianBytch) December 15, 2013
When I am left out of the conversation because I am not considered a WOC. #NotYourAsianSidekick

— Kathy Khang (@mskathykhang) December 16, 2013
When East Asian becomes the default for Asian identity, we neglect other subgroups (Nepali, Afghani, Uzbek) in convos #NotYourAsianSidekick

— Maureen (@maureen_ahmed) December 15, 2013
Being "honorary whites" ≠ a compliment or a good thing. Also not something to aspire to #NotYourAsianSidekick #racialjustice #realsolidarity

— Samala, C. M. (@samala) December 15, 2013
This is what I get when I google "asians". So yes, we need to have a #NotYourAsianSidekick convo because we matter. pic.twitter.com/DfjwYZ0q0T

— Suey Park (@suey_park) December 15, 2013
i found this image on Tumblr. i think it's powerful and sums the whole argument up #NotYourAsianSidekick pic.twitter.com/T7jZ9H6rrb

— Catherine Labiran (@cathslabiran) December 16, 2013
#NotYourAsianSidekick WHITE HIPSTERS: I AM NOT YOUR QUIRKY ACCESSORY.

— Jenny Yang (@jennyyangtv) December 15, 2013
#NotYourAsianSidekick is trending because what u dismissively call "political correctness" is what I call "my life."

— Jenny Yang (@jennyyangtv) December 15, 2013
#NotYourAsianSidekick don't make me ur "model" minority cuz ur tryna say OTHER ppl of color r BAD. IM NOT UR DIVIDE & CONQUER.

— Jenny Yang (@jennyyangtv) December 15, 2013
#NotYourAsianSidekick there IS internalized anti-black/ness racism within my communities. makes some of us LIKE being the "model minority."

— Jenny Yang (@jennyyangtv) December 15, 2013
I need Asian feminism that confronts, rejects, and dismantles the Model Minority myth as a tool of anti-black racism #NotYourAsianSidekick

— Julia Wong (@juliacarriew) December 15, 2013
My birth certificate lists my race as "white" because, even in the 80s, this country still only saw black and white #NotYourAsianSidekick

— Samala, C. M. (@samala) December 15, 2013
Yes, I speak English very well. It's called colonization. #NotYourAsianSideKick

— Gregory A. Cendana (@gregorycendana) December 15, 2013
I'm #NotYourAsianSidekick because my immigrant parents sacrificed everything except self-respect.

— Hari Kondabolu (@harikondabolu) December 15, 2013
If I'd read #NotYourAsianSidekick trend as a teenager I would've felt so glad to know there were others out there experiencing same things

— Rubedoo (@BugsMcgee) December 15, 2013
This is not a trend, this is a movement. Everybody calm down and buckle down for the long haul, please.

— Suey Park (@suey_park) December 16, 2013