Several suspects sought in fatal assault that left Kim Pham brain dead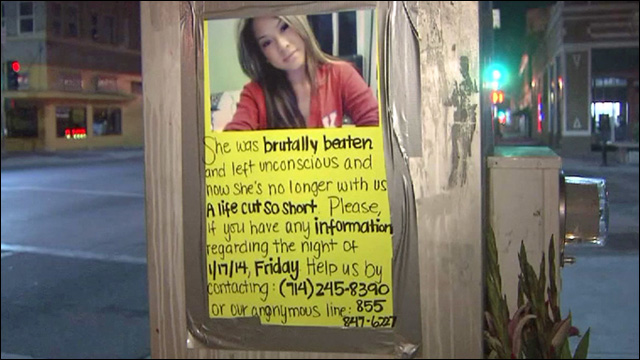 Shocking news out of Southern California, where friends and family are mourning the death of a woman who was brutally beaten and left brain dead outside a nightclub in downtown Santa Ana early Saturday morning. Authorities are asking for the public's help identifying suspects involved in the assault.
Arrest Made in Beating Death of Kim Pham, 23, Outside The Crosby in Downtown Santa Ana
23-year-old Kim Pham was brutally beaten by a group of five people outside The Crosby, a popular nightclub. The incident apparently started when Pham, who was waiting in line with friends, got into an argument with another group that escalated into a physical altercation. According to witnesses, the group -- three females and two males -- kicked and stomped on Pham even after she fell to the ground.
OC Weekly
has posted a
video
of the assault, anonymously sent to a friend of the victim:
Police have
arrested
a female suspect on suspicion of assault with a deadly weapon and causing great bodily harm. Officers are continuing to search for two other women and two men in connection with the assault.
Family members say Pham passed away from her injuries. (It's being reported that the victim is still currently on life support, but declared brain dead.) Here's a statement from her family, posted on
Facebook
:
Our beloved sister, daughter and friend Kim (Annie) Pham passed away on Sunday, January 19, 2014 at 12:36 PM. Kim is currently on life support because her wishes had always been to help others by being an organ donor.

At this time, we ask for privacy to mourn for our loss. Thank you for all your love, support, and prayers and we are still fighting for Kim. Stay strong.

Love,
Kim's family

Investigators believe witnesses may have taken more video or photos of the assault, and are asking members of the public to come forward with any documentation from that night. Anyone with information is asked to call the Santa Ana Police Department at 714-245-8390 or OC Crime Stoppers at 855-847-6227.
More here:
23-Year-Old Woman Dies After Brutal Beating Outside A Nightclub