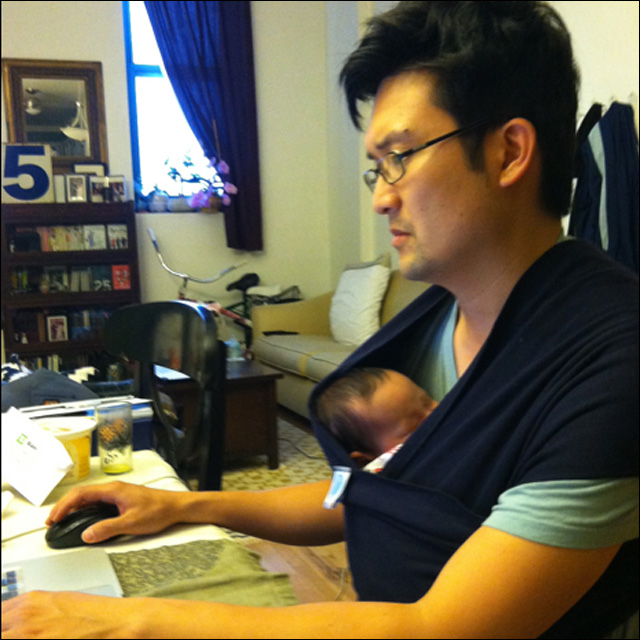 All right, folks. We're doing this thing again. It's time to meet the
Angry Reader of the Week
, spotlighting you, the very special readers of this website. Over the years, I've been able to connect with a lot of cool folks, and this is a way of showing some appreciation and attention to the people who help make this blog what it is. This week's Angry Reader is Gerry Kim.
Who are you?
Gerry Kim.
What are you?
Independent Producer and Novice father
Where are you?
Brooklyn, New York.
Where are you from?
I'm originally from the suburban fringes of Chicago, where I grew up in a neighborhood that had (and still has) the diversity quotient of a Republican National Convention. So questions like: "Where are you from...no, where are you really from?" were pretty common. But I'm a die hard when it comes to Chicago sports and food. White Sox, Bears, Bulls, Blackhawks. But I'm a Cubs hater.
What do you do?
I'm a med school drop out that somehow found his way into movies (a Tiger mom's worst nightmare!). I run
Dodgeville Films
with my producing partner and friend, Mayuran Tiruchelvam. We met at Columbia University Film School, where we worked on several projects together. We decided to continue the partnership after graduation, and now we produce feature narratives, documentaries, and commercials.
As an independent producer, you pretty much have to do everything. Sometimes fun stuff, sometimes not so fun stuff. But mainly it's being a professional beggar, therapist, logistics guru, marketer, location scout, accountant, talent handler, web designer, social media planner, and most importantly, a creative partner. It's a lot of work and stress, especially given the hours and pay. However, nothing beats being on a set with a group of people that you love and admire. And it's even better when you get to share that work with a wider audience!
What are you all about?
I'm interested in complicated and emotionally intelligent storytelling, whether it's through documentaries, narrative films, or even commercials. The longer I work in film, the harder it is for me to invest the time and energy into something that I don't believe in.
Right now, I'm heading to Sundance with the film, TO BE TAKEI, directed by Jennifer Kroot. It's a privilege and an honor to be a part of this project, especially since it's about someone that I've always admired as a human being. In a political climate that is largely defined by divisive and hateful rhetoric, George Takei seems to transcend the inane chatter by using a unique and endearing brand of humor that cuts across so many different audiences. And what's also great is that the entire crew, top to bottom, are all amazing people. Couldn't ask for a better team! (Follow us on Facebook, Twitter, and Instagram @tobetakei throughout the festival!)
What makes you angry?
Sigh... too many things. But here's the short list: conservative talk radio, religious fanaticism, Tiger moms, diaper blowouts, Michael Bolton's cover of "When a Man Loves a Woman," opportunistic people, belligerent biker gangs that ride the FDR or Henry Hudson Parkway, people who think we live in a post-racial America because Obama was elected president, people who point to the Polar Vortex and use that as proof that climate change doesn't exist, airline delays and lost luggage, food poisoning, corporate greed and passive-aggressive racists.