Conservative author accused of making illegal contributions to 2012 Senate campaign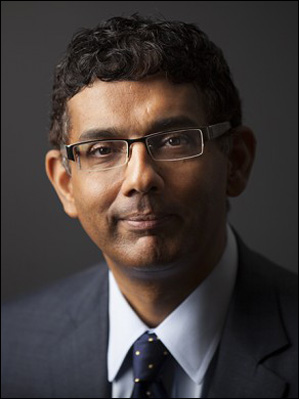 Asians behaving badly... illegal campaign contribution edition! In New York, best-selling conservative author and filmmaker Dinesh D'Souza has been indicted on charges that violated campaign finance laws.
Dinesh D'Souza Is Charged With Using Straw Donors
D'Souza is accused of directing $20,000 in illegal contributions to be made to a U.S. Senate candidate. According to federal prosecutors, D'Souza encouraged others to donate to the candidate's campaign and reimbursed them for the donations. Election law caps donations at $5,000 per donor to any one candidate.
The candidate wasn't identified in the indictment, but it appears likely that it was Republican Wendy Long, D'Souza's former Dartmouth classmate who lost her challenge to Democratic incumbent New York Senator Kirsten Gillibrand in last year's election -- and the only federal candidate D'Souza donated to in 2012:
It is not clear from the court documents what led investigators to Mr. D'Souza in a fund-raising case involving relatively small donations, in a race that ended in a blowout win for Ms. Gillibrand. Ms. Long raised about $785,000 in the race.

Ms. Long and Mr. D'Souza were students together at Dartmouth College, where they worked on the staff of The Dartmouth Review, a conservative newspaper on campus. In the 2012 race, he was a host for one of Ms. Long's fund-raisers.

Prosecutors also charged DSouza with causing the candidate's campaign to unwittingly file false campaign documents. He pleaded not guilty and was released on $500,000 bond.
More here:
The unraveling of Dinesh D'Souza