Ashley Wagner named to American squad despite fourth-place showing at U.S. championships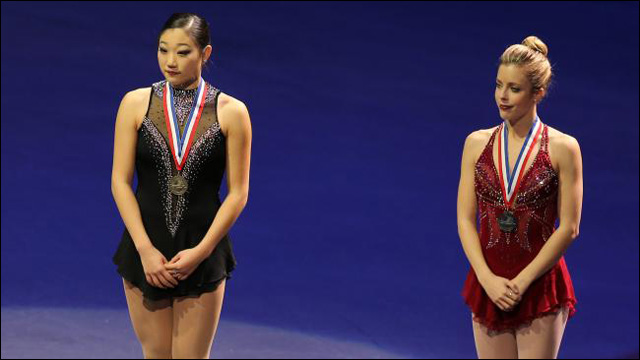 I watched figure skating over the weekend. I tuned in because there's a handful of awesome Asian American athletes to watch in the sport, and the outcome of the U.S. Figure Skating Championships is traditionally a significant factor in determining who is selected to represent the United States at the Olympics.
I also tuned in, apparently, to see Mirai Nagasu get screwed over.
Ashley Wagner, a two-time national champion and heavy favorite to make the Olympic team, fell to the ice twice during Saturday's free skate program and finished a distant fourth behind Gracie Gold, Polina Edmunds and Mirai Nagasu. Meanwhile, Nagasu delivered a solid skate and took home the bronze.
But on Sunday, it was announced that Wagner was selected for the Sochi Olympic team, with Gold and Edmunds, over Nagasu. So how does that work?
US Figure Skating only uses the national finals results as a guide to selecting its Olympic team, but also takes into account results over the past year.

That's how Wagner fell twice in the free skate but was able to qualifying for a trip to Sochi next month despite struggling to a distant fourth on Saturday behind champion Gracie Gold, 18, and runner-up Polina Edmunds, 15, and Nagasu, who finished fourth at the 2010 Vancouver Winter Olympics.

Wagner was fifth in last year's world championships, helping give the Americans three places in Sochi, but failed to reach Vancouver in 2010, when she was third at the US nationals but the Americans had only two berths in the women's event.

Nagasu released a statement through U.S. Figure Skating regarding the decision: "I'm disappointed in the decision," she said. "Though I may not agree with it, I have to respect the decision the federation made. And I'm grateful to everyone who has supported me and look forward to what comes next in my skating career."
Outrage! Wagner came to skate and choked, while Nagasu -- a veteran of the 2010 Olympics -- rose the challenge and shined. It should have been all over for Ashley Wagner. Hell, even
she knew it
. But she got magically leap-frogged over Mirai on to the team. What's up with that? Let's be real -- Ashley Wagner was already a major part of U.S. Figure Skating's marketing plan for the 2014 Olympics. Politics, y'all.
Mirai Nagasu should be going to Sochi.
More here:
Wagner in, Nagasu snubbed for US Olympic team