February 1-19 at GR2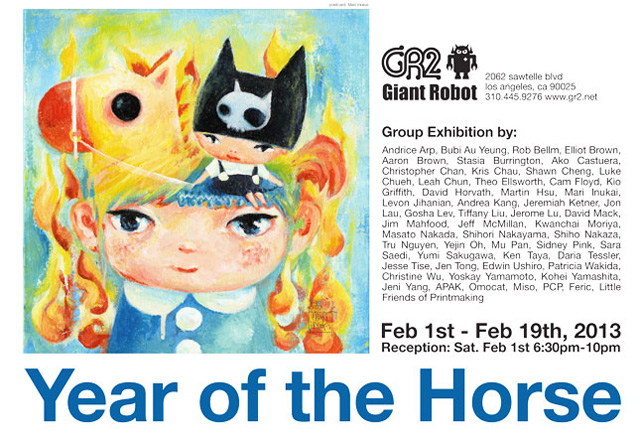 If you're in Los Angeles, Giant Robot invites you to ring in the lunar new year with an art show.
Year of the Horse
, running February 1-19, is a group exhibition featuring works from over fifty artists. Things kick off this Saturday, February 1 with a reception at GR2. Here are some more details about the show:
YEAR OF THE HORSE

Feb 1, 2014 - Feb 19th, 2014

Reception Saturday Feb 1st, 2014 6:30-10pm

Year of the Horse Exhibition

It's the Year of the Horse which officially takes place January 30th, but on saturday, Feb 1st, 2014, Giant Robot will celebrate Year of the Horse with a group exhibition featuring 50+ artists. Horses are a constant great subject in art, and this will be an interesting and fun exhibition.

Featuring: Andrice Arp, Bubi Au Yeung, Rob Bellm, Elliot Brown, Aaron Brown, Stasia Burrington, Ako Castuera, Christopher Chan, Kris Chau, Shawn Cheng, Luke Chueh, Leah Chun, Theo Ellsworth, Cam Floyd, Kio Griffith, David Horvath, Martin Hsu, Mari Inukai, Levon Jihanian, Andrea Kang, Jeremiah Ketner, Jon Lau, Gosha Lev, Tiffany Liu, Jerome Lu, David Mack, Jim Mahfood, Jeff McMillan, Kwanchai Moriya, Masato Nakada, Shihori Nakayama, Shiho Nakaza, Tru Nguyen, Yejin Oh, Mu Pan, Sidney Pink, Sara Saedi, Yumi Sakugawa, Ken Taya, Daria Tessler, Jesse Tise, Jen Tong, Edwin Ushiro, Patricia Wakida, Christine Wu, Yoskay Yamamoto, Kohei Yamashita, Jeni Yang, APAK, Omocat, Miso, PCP, Feric, Little Friends of Printmaking and more.

This is going to be a fun show. For further information, visit
Giant Robot