Delivery driver Steve Tran didn't realize he was holding the winning ticket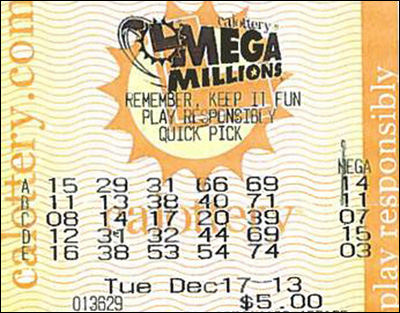 Daaaaaaamn. There's going to be one hell of a party in San Jose... In Northern California, nearly two weeks after the winning numbers were announced, the co-winner of the second-largest jackpot in U.S. history has come forward. Why the delay? I'd be booking it to claim my prize. He apparently didn't realize he had won!
Mega Millions: Late discovery leads to delivery driver claiming $324 million lottery prize
There's been a lot of suspense around the $324 million winning ticket, purchased at a gift shop in East San Jose. On Thursday, three days after he realized he had the ticket, delivery driver Steve Tran stepped forward to claim his half of the jackpot. That's a $173.8 million, before taxes.
Tran apparently had a pile of unchecked lottery tickets that he had forgotten about. He even watched the news and wondered along with everyone about who the hell the lucky winner was. The realization that he might have won hit him like a bolt of lightning in the middle of the night:
On the day after the winning numbers were drawn, Tran said he watched the story in the news with as much wonder about the winner as millions of other Californians.

"Everybody was anxious, looking for the person," Tran told the California Lottery. "Must be a lucky man."

Then he took his family on vacation. The entire time, he had a pile of lottery tickets he had bought in multiple towns while making delivery runs.

"Just sitting in my house, on top of my drawer," Tran said.

They returned from the trip, and about 3 a.m. Monday, an electrifying thought raced through his mind and startled him out of slumber.

"I woke up in the middle of the night," Tran told lottery officials. "I remembered, I think I went to San Jose."

Tran checked his tickets and made the $324 million discovery.

The first thing Tran did when he realized he was a millionaire? He called his boss to tell him he wasn't coming into work. Ever again. The winning numbers, by the way, were 8, 14, 17, 20 and 39, with a Mega ball of 7.
More here:
Man checks lottery ticket 2 weeks later, claims half of $648M