Sign the petition to halt LADWP's proposal for a 1,200-acre solar energy facility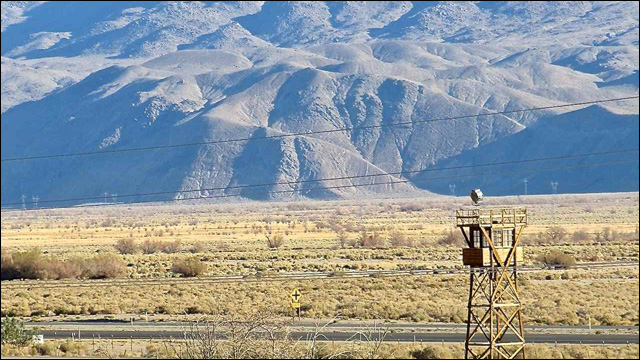 Calling your attention to something going down at Manzanar... Last month, the Manzanar Committee launched an
online petition drive
and community letter-writing campaign calling on the Los Angeles Department of Water and Power (LADWP) to halt its efforts to build a proposed industrial solar energy generation station in California's Owens Valley, adjacent to the
Manzanar National Historic Site
.
As you know, Manzanar was one of ten camps where over 110,000 Japanese Americans were incarcerated after being forcibly removed from the West Coast during World War II. Today, the Manzanar National Historic Site stands to preserve and interpret the legacy of Japanese American incarceration in the United States.
But the LADWP has grand plans to build Southern Owens Valley Solar Ranch, a 200-megawatt solar energy generating facility that would consist of solar photovoltaic panel modules and associated infrastructure. The approximately 1,200-acre project site would be located on City of Los Angeles-owned property east of the Owens River, but in a direct line of sight with the Manzanar Historic Site, which lies immediately to the west.
The Manzanar Committee says LADWP's proposed facility will create an environment that is highly detrimental and disrespectful to the history and culture of the Owens Valley and the Manzanar National Historic Site.
The Manzanar National Historic Site, and its surrounding environment, tells the story of when 120,000 persons of Japanese ancestry, two-thirds of them native-born U.S. citizens, were forcibly removed from the West Coast during World War II by the signing of Executive Order 9066, and exiled to remote, desolate and harsh environments throughout the United States. After losing property, careers and educational opportunities, those incarcerated in America's concentration camps were forced to endure these harsh environments for years. This historic site stands as a stark reminder of one of the most egregious violations of civil rights in American History.

The Manzanar Committee is not opposed to renewable energy, especially solar. Such energy projects are essential to curb global climate change. However, the proposed solar ranch is not the ideal site to meet the energy demands of Los Angeles. In fact, distributed solar projects located close to where energy is needed avoid expensive and inefficient long-distance transmission from industrial sites like the LADWP's proposed solar ranch. Solar projects in Los Angeles will be more efficient, cheaper and save ratepayers money.

The Owens Valley is nestled between the Eastern Sierras with Mt. Whitney to the west and the Inyo Mountains to the east. Many in the Owens Valley community, including the Big Pine Paiute Tribe, the Lone Pine Paiute-Shoshone Tribe, the Owens Valley Committee, and other concerned organizations, individuals and businesses, stand against this project, citing that it is poorly conceived in its evaluation of the effect on the natural beauty of the area, the impact of maintenance, high fences and herbicides to wildlife, and the adverse effect to local tourist economies.

To sign the petition to halt this destructive project, go here:
Halt LADWP's Plan To Build A 1,200-Acre Solar Energy Generating Station Adjacent to Manzanar National Historic Site
For further information about the campaign to stop LADWP's plans for a solar energy facility adjacent to the Manzanar National Historic Site, visit the
Manzanar Committee website
.