Chen Guangbiao is the "Most Well-known and Beloved Chinese Role Model," among other things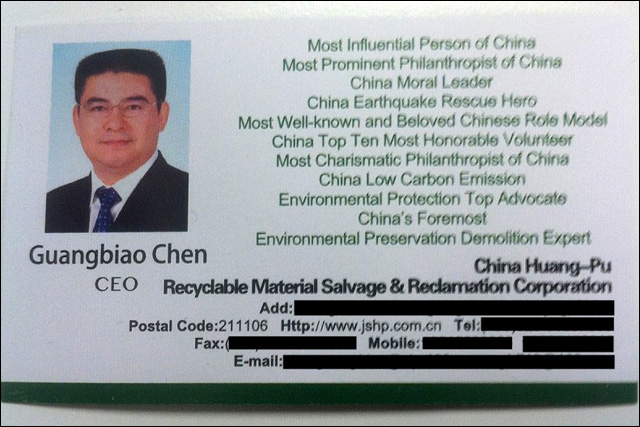 Behold, regular business card holders. I give you the business card of Chen Guangbiao, CEO of Recyclable Material Salvage & Reclamation Corporation. It is, hands down, the Greatest Business Card Ever.
As a businessman and high-profile philanthropist, Chen is one of China's top 400 richest people, and was estimated to have a personal fortune of worth $740 million in 2012. He's recently been in the news because he wants to
buy The New York Times
for a couple of billion bucks.
I guess you don't get into a position like that without some audacity, and his incredible English-language business card -- handed out to U.S. journalists -- clearly shows it. His many illustrious titles include:
Most Influential Person of China

Most Prominent Philanthropist of China

China Moral Leader

China Earthquake Rescue Hero

Most Well-known and Beloved Chinese Role Model

China Top Ten Most Honorable Volunteer

Most Charismatic Philanthropist of China

China Low Carbon Emission Environmental Protection Top Advocate

China Foremost Environmental Preservation Demolition Expert

Did he receive these titles by popular vote, or some kind of official determination, or are they self-proclaimed? Whatever the case, I'm inspired. It's clear that my own business card layout is all wrong.
More here:
The Incredible Business Card Of The Chinese Millionaire Who Wants To Buy The New York Times