NYPD gets tough -- waaaaaay too tough -- on jaywalking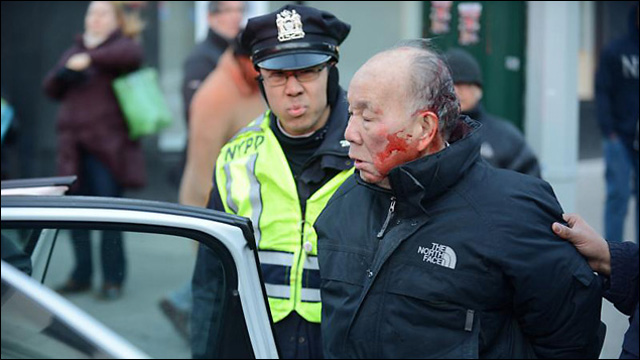 Disturbing news out of New York City... Over the weekend, an elderly man was hospitalized after being left bloody and violently arrested by police on the Upper West Side. His crime? Jaywalking, apparently.
Cops leave elderly man a bloody mess after he jaywalked
Early Sunday morning, a 26-year-old woman died after being hit by a car on the far west end of 96th Street -- the third pedestrian fatality to happen on the block in eight days. By that afternoon, NYPD officers were out in full force in the area, aggressively handing out tickets to jaywalkers in an effort to discourage unsafe street crossing. In the case 84-year-old jaywalker Kang Chun Wong, the cops got waaaay too aggressive.
According to the
New York Post
, the trouble began when cops spotted Wong crossing against the light at the intersection of 96th Street and Broadway, and attempted to give him a ticket. There appears to have been a language barrier, and when Wong started to walk away, the situation quickly devolved into what became a bloody mess:
"The guy didn't seem to speak English. The cop walked him over to the Citibank" near the northeast corner of 96th and Broadway, said witness Ian King, a 24-year-old Fordham law student.

"He [the officer] stood him up against the wall and was trying to write him a ticket. The man didn't seem to understand, and he started walking away."

That's when the officer and several colleagues converged on the senior citizen, who was left badly beaten and bloodied.

"The cop tried to pull him back and that's when he [the pedestrian] began to struggle with the cop," King said.

"As soon as he pushed the cop, it was like cops started running in from everywhere."

I don't care what the hell happened. There's very little excuse for roughing up an elderly man. If you're handing out jaywalking tickets to make a point about pedestrians putting themselves in harm's way, I can tell you about one guy who was definitely harmed on Sunday afternoon. The 84-year-old guy who was knocked to the ground, handcuffed and hospitalized for a head wound.
Wong was charged with obstruction of government administration, disorderly conduct and resisting arrest.
More here:
Cops getting very aggressive on jaywalking on UWS