Feature documentary on a star's trek for life, liberty and love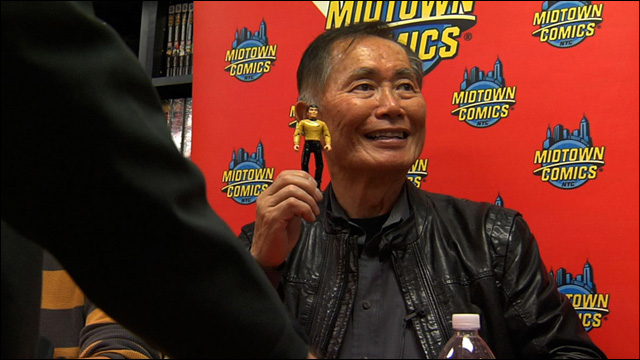 Oh my, moviegoers. I'm a little bummed that I can't attend the Sundance Film Festival this year. Maybe next time. One of the films I really wanted to see was the world premiere of
To Be Takei
, a feature documentary about
Star Trek
icon and human rights activist George Takei. Directed by Jennifer M. Kroot, the film follows George and his husband Brad on a star's profound trek for life, liberty and love.
Here's the film's
description
from the Sundance program:
George Takei doesn't shy away from digging into his remarkable career and personal life in Jennifer Kroot's delightful and incisive film To Be Takei. As a child forced into Japanese-American internment camps, the actor-turned-activist reveals the ways that racism affected him well into his early acting career, where he played stereotypical Asian stock characters in film and television shows. Even after landing the iconic role of Hikaru Sulu on Star Trek, Takei's sharp eye, coupled with his wicked sense of humor, continued to challenge the status quo well into the twenty-first century.

Now at 76, nine years after formally coming out of the closet, Takei and his husband, Brad, have become the poster couple for marriage equality, highlighting homophobia through television interviews and hilarious skits, many of which have gone viral and garnered widespread attention. Whether dishing on William Shatner or parodying the now-infamous comments made by Tim Hardaway, Takei proves time and again why his presence in popular culture remains as fresh and necessary as ever.

To Be Takei
premieres this weekend at the 2014 Sundance Film Festival in Park City, Utah. For further information, visit the film's
website
and
Facebook page
. And always remember,
it's OK to be Takei
.