Dash cam shows that firefighters were alerted to survivor Ye Meng Yuan before she was run over by a rig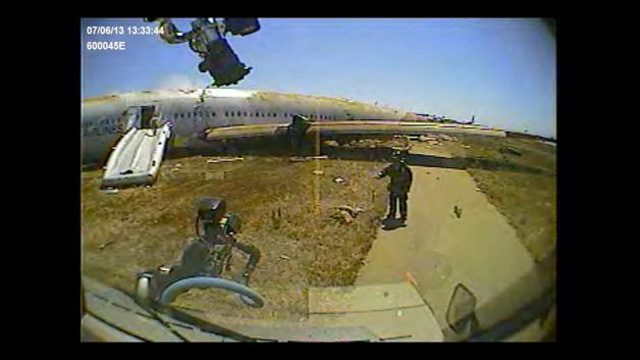 The Asiana Airlines
crash
last July at San Francisco International Airport killed three passengers -- one from being run over by an emergency vehicle after the crash. Newly obtained camera footage reveals that the driver of the vehicle had been alerted to avoid the teenage survivor as she lay on the ground.
Fire rig alerted to Asiana victim before running her over
16-year-old Ye Meng Yuan survived the plane crash, but died after being hit by fire rigs. Dashboard camera footage obtained by the
San Francisco Chronicle
shows that a firefighter pointed out Yuan's body on the ground -- still alive, according to the coroner -- 15 minutes before she was run over by the truck.
The rig camera's footage shows that although the plane had crashed just a few minutes earlier, passengers were gone from the area where Ye lay crumpled, and at one point a firefighter walked past her without looking down.

It also shows that the first rig that ran over Ye sprayed much of the flame-retardant foam that came to obscure her from firefighter drivers. When the rig initially pulled up to the plane, the girl was lying on bare ground, the footage shows.

The Chronicle reviewed a copy of the footage supplied by a source, who stipulated that it not be posted online because of its graphic nature.

The recording shows the rig, driven by firefighter Jimmy Yee, approaching the scene within minutes after the 11:27 a.m. crash, black smoke curling above the wrecked airliner. The rig was forced to stop repeatedly to allow passengers to flee the area.

About five minutes after arriving, the rig was positioned at the front of the left wing, where Ye was on the ground.

At 11:36 a.m., the dashboard camera's footage showed a man identified by investigators as firefighter Roger Phillips waving his arms to direct Yee around the girl. The rig waited for a moment to allow another firefighter to walk between the vehicle and the girl. That firefighter didn't pause or look at Ye and continued toward the plane.

Last week, Yuan's parents filed a claim against the city of San Francisco, saying firefighters were reckless and poorly trained when they failed to examine her and move her somewhere safe at the scene of the crash. I imagine that this dash cam video will back their claims considerably.
More here:
Parents file claim for girl run over after Asiana plane crash